ORCHESTRATE EXPANDS GLOBAL CAPABILITY - New Advanced Delivery Center in Philippines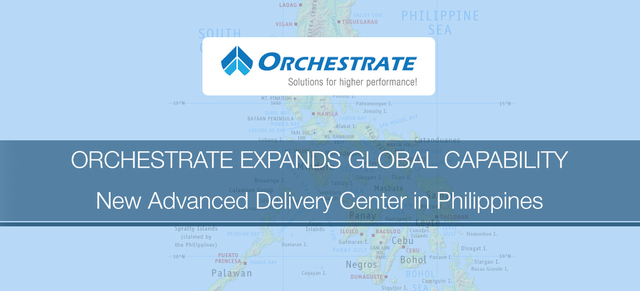 Texas – February 27, 2015 –
Orchestrate Technologies LLC
, a Dallas based Business Process Management Organization officially announced the opening of its Delivery Center in Philippines. Located in Manduae City, CEBU, this center is all set to provide its clients a high value offshore services which includes Contact Center Solutions, Back-Office Support, Finance and Industry Specific Offerings.
Orchestrate already has its presence in United States & India. With the new center in Philippines the focus is to provide exceptional
cost effective services
to its clients and leverage on the huge pool of skilled workforce readily accessible.
"Our new center in Philippines will strengthen our delivery model. Philippines being the second among Global BPO destinations with experienced and skilled talent will contribute immensely to our Business Model. We look forward to make most out it said Z.Ed Lateef, CEO, Orchestrate Technologies LLC.
The main objective of setting up a center in Philippines was to provide competitive edge to our clients. The time zone is best suitable to offer round the clock services, especially for businesses based out of United States. With the commitment to help our clients achieve there organizational goal, this new center will support critical business processes and provide end to end Outsourcing Services added Z.Ed Lateef.
About Orchestrate:
Orchestrate is a US based Business Process Management company with headquarters in Dallas, Texas. Orchestrate is a forthcoming source to the diverse needs of lenders & Mortgage Service providers. Our team is continuously motivated to add value to your business through capable back office practices and significant savings.
We support your business by:
Distinctive and lucrative solutions.
Work closely with your team to establish a responsive re-engineered process for greater business outcomes.
Offering our supreme skills and experience to serve you from different geographic locations.
Providing value added services such as reporting and predictive analytics that can improve your end customer experience.
Press Contact:
Aditya Singh
972 395 5611
aditya.singh@orchestrate.com
Email Orchestrate Technologies, LLC