The Mobile World - in the palm of your hand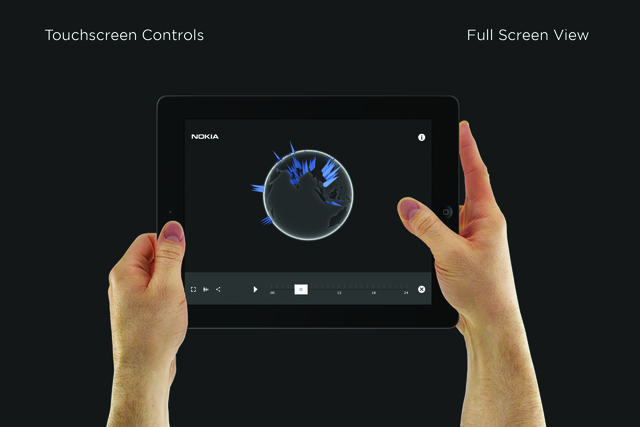 March 3, 2015 - Device detection expert,
51Degrees
and open source software specialist,
The Away Foundation
have collaborated to demonstrate the relative strength of mobile handset manufacturers in every country around the world via a graphics rich image of the globe. This
3D-mobile world
can be viewed from any mobile device, including smartphones and tablets, via a web browser.
51Degrees collects information on more than 3 billion instances of mobile handsets accessing the web across more than 1.5 million websites every month. Information collated includes size of screen, browser and manufacturer. 51Degrees has collaborated with The Away Foundation to illustrate this information graphically.
The data is represented as a cone for each manufacturer at the geographical location the information was collated.
Viewers can then compare the volume of web browsing sessions that each manufacturer has at this location to determine the approximate install base of the handsets and relative strength of the brand in any given country.
WebGL technology is rapidly becoming a graphics standard for many web-enabled devices including the latest iOS and Android smartphones. Using WebGL, The Away Foundation has created fast graphical rendering in a browser, with compatibility across all devices from PCs to mobile phones. By using WebGL in a browser, 51Degrees and The Away Foundation have made real-time data visualisations of huge data sets a reality.
James Rosewell, CEO of 51Degrees says: "51Degrees has been looking for a way to visualise big data sets, to help illustrate the billions of data points that we collect. Having seen the work that The Away Foundation has been doing in gaming and other industries, there was an opportunity to create a unique visualisation of big data. "The resultant browser-based experience shows that, even on a mobile handset, large datasets can be aggregated and delivered quickly and effectively.""
Rob Bateman, Founder of The Away Foundation comments: "The smartphone has become our preferred way to consume information. In this project we wanted to demonstrate that huge sets of data could be illustrated on small screens. The result shows the volume of web browsing coming from mobile handset manufacturers in any country of the world and can be displayed on any browser-based device. The size of the data set and the size of the screen are no longer limitations to elegantly displaying complex data."
The mobile world will be demonstrated at Mobile World Congress, 2-5 March 2015, Hall 7, stand 7C70.
It is also available to view at:
www.digitalglo.be
51Degrees is seeking feedback on the project to help us inform future direction. Please visit
www.digitalglo.be/info
and take our survey. We would appreciate your response.
Notes for Editors
About 51Degrees
51Degrees delivers cost-effective, risk-free device detection, web optimisation and mobile analytics solutions enabling developers to maximise their customer's web experience. With more than 30 years' management expertise in developing and managing mobile web services, 51Degrees is used by 1.5 million websites and supports over three billion unique device visits every month. The company is headquartered in the UK. For more information visit
www.51Degrees.com
Media Contact for 51Degrees Ltd:
Nick Renshaw
XL Communications
Tel: +44 (0) 7866 567 179
Email:
nick@xl-comms.com
About The Away Foundation
The Away Foundation is a non-profit Community Interest Company (CIC) that promotes openness, innovation and participation in and around freely available software resources
The AwayJS framework is The Away Foundation's latest software resource for multi-platform, high performance graphical rendering, receiving regular updates and
maintenance. Parallel resource projects also managed by The Away Foundation include Away3D, Away Physics, the AWD format and Away Builder.
Each of The Away Foundation's resource projects are developed by a dedicated core team providing code and support services to the community. Teams are sustained by a combination of corporate sponsorship and an extended group of contributors who donate their free time to the development effort.
The Away Foundation is primarily focused on the development and maintenance of tools and libraries used in the production of online interactive visual content, and seeks to promote the value of open standards and open source software to a broader audience.
Media Contact for The Away Foundation:
Rob Bateman
The Away Foundation
Tel: +44 (0) 7714329073
Email:
rob.bateman@awaystudios.com