Architectural window film dealers energized by new resources and opportunities at 2015 Panorama® Dealer Meeting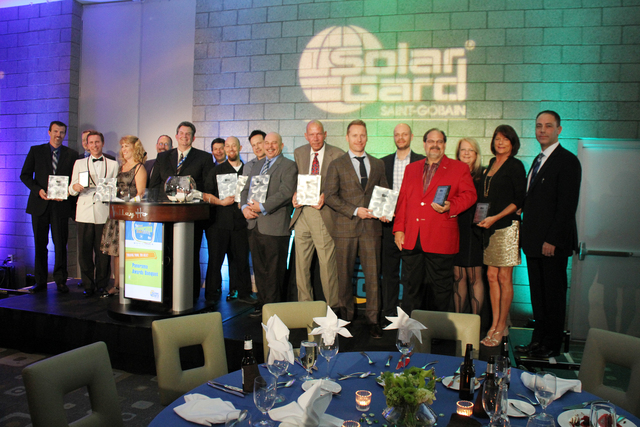 Friday, March 3, 2015 - Over 150 attendees from all over North America gathered in Scottsdale, AZ for the 9th Annual Panorama Dealer Meeting held February 19-21st. The mid-century modern décor of Hotel Valley Ho provided a backdrop for increasing end consumer value offered by Solar Gard and its Panorama Dealer Network. With favorable conditions in Residential remodel and renovation projects along with a steady growth trend in commercial projects dealers were further equipped to address these segments through additional products and analytics. Additionally Solar Gard reinforces its commitment to the network through the announcement and introduction of; a new identity package, additional product line additions as well as enhanced service offerings for Panorama Dealers to further differentiate the distinctive value the Panorama Dealer Network represents.
Featuring six guest speakers and dozens workshops this year's meeting highlighted Saint-Gobain's 350 Year anniversary and history, offered sessions on door-opening service offerings; new and upgraded selling technology; tips on reaching consumers online and offline through web optimization and personal branding; interactive sessions on selling approaches and proven marketing tactics from the dealer network, In addition continued education continued with live academy training classes and certification offered for dealers positioned to sell Solar Gard's Low E Window Film, Ecolux™, a breakthrough in technology for all-season year-round energy savings and comfort.
Hotel Valley Ho lent itself to the 1960s-inspired "Value is Timeless" theme that was demonstrated in an unbeatable view from the roof top of the hotel - which was originally built in 1956 - during a welcome cocktail reception, as well as a group dinner featuring family game night activities and 1960s attire.
"Authorized Panorama Dealers are the best in the business in our view and are true business partners with our company and we designed this year's Annual Dealer Meeting to emphasize this very point while providing our partners with best-in-class resources and tools to take their businesses to new heights." said Lawrence Constantin, Solar Gard's Director of Sales and Marketing for the Americas. "Together with our Elite Panorama Network we will uncover and address the continually emerging opportunities in the commercial and residential markets.
Solar Gard also recognized its top-performing Panorama Dealers in North America in 2014 during a closing awards banquet Saturday evening focusing on various metrics such as:
Key Project, Energy Savings ROI, Product Line Performance, Hospitality and Overall Dealership Performance
The full list of award recipients includes:
Outstanding Panorama Project - Commercial: David Capps of AAA Glass Tint, Inc. - Crystal Lake, IL
Outstanding Panorama Project - Commercial: John Henderson of Royal Window Films, Anaheim, CA
Outstanding Panorama Project - Commercial: Darlene Sneddon of Advantage Window Tinting - Sugar Grove, IL
Outstanding Panorama Project - Residential: Brian and Cheryl Hoffman of Window Kote - St. Petersburg, FL
Hospitality Team Award: Steve Clark of Window Innovations, Inc. - Brentwood, CA
Panorama Hilite Excellence: Frank Torriero of Sun Tamers Window Tinting - Laguna Niguel, CA
Panorama PremierPlus Top Performer: Manny Almeida of Clearview Sun Control, Inc., Redondo Beach, CA
Outstanding New Panorama Dealer - East: Scott E. Brady of Secure Window Film and Tint LLC - Palm Harbor, FL
Outstanding New Panorama Dealer - West: Mike Shanahan of Armor Glass Tinting - Brea, CA
Outstanding Panorama Business Growth: John Henderson of Royal Window Films - Anaheim, CA
Panorama Ecolux Excellence: Philip White of Cool Dreams - Sierra Vista, AZ
Panorama Dealer of the Year: James Beale and Patrick Coyle of National Glazing Solutions LLC - Atlanta, GA
For any press, spokesperson or images requests please contact:
Bill Trifiro
TriSvara
bill@trisvara.com
(540) 440-1100
About Solar Gard
Solar Gard positively impacts lives with products that protect, save and renew. Headquartered in San Diego, California, Solar Gard makes industry leading architectural and automotive window films, photovoltaics and custom coatings.
A division of Saint-Gobain Performance Plastics, a subsidiary of Saint-Gobain, the world leader in the habitat and construction markets, Solar Gard's architectural solar control window films are proven carbon negative and reduce global greenhouse gas emissions.
Solar Gard products are sold in more than 90 countries under the Solar Gard®, Panorama®, Quantum® and Solar Gard Armorcoat® brands. For more information, visit
www.solargard.com
.
About Saint-Gobain
Located in 64 countries and with nearly 193,000 employees, Saint-Gobain, world leader in habitat, designs, manufactures and distributes building materials, providing innovative solutions to meet the challenges of growth, energy-saving and environmental protection. World leader in high performance plastics, Saint-Gobain Performance Plastics is headquartered in Aurora, Ohio (USA). The company employs 4,500 employees in 16 countries. Its product offer includes films, foams, coated fabrics, bearings, seals and fluid systems. For more information, visit
www.saint-gobain.com
and
www.plastics.saint-gobain.com
.