Tudi Educates Their Customers on the Latest Heating and Cooling Technologies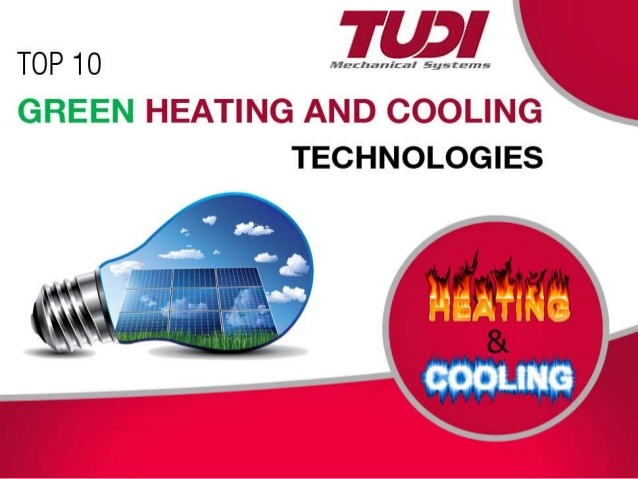 March 4, 2015 - Most American homeowners are constantly on the lookout for new ways to save money on their household's utility costs. One way to keep your energy bills at a minimum is to incorporate the latest heating and cooling technologies in your home. Discover some of the most cost-effective and energy-saving technologies out there by checking out the latest slideshow from the expert technicians at Tudi.
New green building technologies are being researched and developed every day. Leading the way in this research is California's Santa Clara University. In just one year, the university installed 60 solar panels on the roof of the student center to help heat water and run the air conditioning in the building. These solar panels are expected to reduce the building's natural gas usage by 70%.
A home's heating and cooling systems typically account for over half of their total energy usage. Making the switch to a more environmentally friendly system can help drastically cut your usage and save you money. In fact, back in 2008 Americans saved an upwards of $19 billion thanks to green energy system usage.
One of the most popular types of green technology is geothermal. Converting heat into energy, geothermal technologies use an underground well to capture the heat and transfer that heat into energy that can be used to heat or cool the home.
Another popular way to capture energy for the home is through the use of solar technology. Used either actively or passively, solar technology stores and releases energy captured from the sun's rays. Passive solar technology uses the existing building (walls, windows, roof, etc.) while active solar technology uses cells or panels.
Wind energy is also rising in popularity among American homeowners, as more people are realizing that turbines don't need to be larger than life in order to be effective. In fact, students of Oregon State University created a pint-size turbine that they used to successfully heat water. The only requirement needed to make use of a wind turbine is having enough wind to spin magnets that are then used to create heat.
While many people feel that green energy can be a costly project, the truth is that energy-saving technology is more accessible now than ever before. To learn more about the latest trends in green heating and cooling techniques, check out the slideshow by visiting
http://www.tudi.com/slideshow-top-10-green-heating-cooling-techniques
.
If you're looking to upgrade the heating and cooling systems in your home, work with the expert technicians from Tudi Mechanical Systems. Utilizing the latest in green heating and cooling technology, Tudi's heating and cooling technicians can help you save money while keeping your home comfortable all year long. For more information on Tudi's service offerings, visit
www.tudi.com
.