Concordia's New White Paper Helps Seniors Prepare for their Move into Senior Living Communities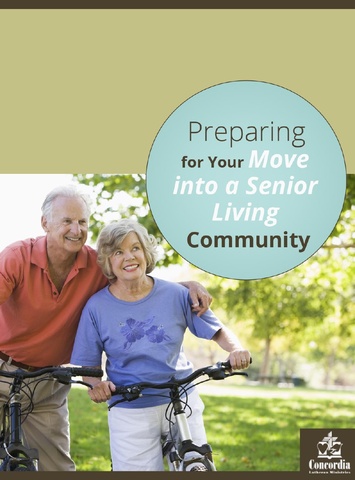 March 5, 2015 - Moving into a senior living community can be an exciting time. Make sure you aren't too caught up in the moment that you forget some of the essential items you will need by preparing for your big move by checking out the newest white paper from Concordia Lutheran Ministries.
Truth be told; there are many changes and things to be arranged before you can make your move into a senior living community. However, making sure you are fully prepared can help ensure that your move into a senior living facility goes as smoothly as possible.
As you prepare for your move, you should determine just how much storage or space you will have to work with in your new home. During your move, it is likely that you will be downsizing the things you own to help you fit everything into your new home. Check with the senior living community to get a copy of the floor plan of the room, helping you determine what to bring and what to leave with family members.
While you're downsizing your belongings, make sure to keep a list of essential must-haves close by to avoid leaving anything behind. Making the most of your smaller space is key, so consider investing in some new organizational tools that will help you store more of your essential items. When creating your list of essentials, make sure to include plenty of year-round clothing options, furniture, housewares and some personal items to help make your room feel more like home. As you begin to pack up your essentials, make sure you set aside all of your important documents.
Downsizing is never easy, but a quick way to get some extra cash and rid yourself of excess baggage is to host a garage sale or even donating them to a local non-profit. For belongings you want to hold onto but just don't have the space for, consider passing them along to a family member or a close friend who has some extra storage space.
Once you have all of your belongings packed up and ready to go, consider getting in touch with a professional moving company. Movers can help ensure that all of your personal belongings arrive at your new home safe and sound. Some senior living communities offer special discounts will local moving companies, so make sure to check with yours before making any arrangements.
Finally, when your move is complete you will want to make sure your address and phone information are up-to-date. Check with your senior living community on how to properly handle your change of address and contact information. Don't forget to inform your bank, healthcare provider and any financial provider of your new contact information.
Moving into a senior living community doesn't have to be a stressful time. Make sure you are fully prepared for your move by checking out Concordia's white paper, available for download at
http://www.concordialm.org/blog/white-paper-preparing-for-your-move-into-a-senior-living-community
.
If you or a loved one has been considering moving into a senior living community, take the time to check out all the care services and amenities provided by Concordia Lutheran Ministries. With locations throughout Western Pennsylvania and Eastern Ohio, the Concordia team has provided thousands of seniors with exceptional living conditions, offering a worry-free and relaxed lifestyle to each one of their residents. Discover more about what Concordia's senior living communities can provide for you by visiting
www.concordialm.org
.
Email Concordia Lutheran Ministries