Media Advisory: The Change Foundation's Capstone Summit & 20th Anniversary: Your Experience, Our Story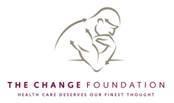 March 5, 2015 - Ontario's health care think tank, The Change Foundation, invites you to its Capstone Summit announcing:
1. The Winners from our
20 Faces of Change Awards
from across Ontario, in recognition of The Change Foundation's 20th Anniversary. The awards honour individuals or teams who have made a significant patient-centred contribution to our system.
2. Key learning from our most ambitious patient-partnered projects —
Northumberland PATH
&
PANORAMA
. PATH deeply embeds patients and caregivers into on-the-ground, system level redesign of health care services in one Ontario community. PANORAMA is our standing panel of 31 citizens adding their health care realities to ground our work.
3. The focus of our new strategic plan, building on our work to advance a patient-centred system in Ontario over the last eight years.
Please see the
agenda
for the event.
Come or tune in by webcast:
http://canwebcast.net/TCF-capstone
Date:
March 9 & 10, 2015
Location:
Marriott Hotel, Eaton Centre, 525 Bay Street Toronto, (Lower Level Ballroom)
March 9:
Announcement of our 20 Faces of Change Award Winners: 6:30 pm – 7:05 pm
March 10:
Key sessions
The PATH Journey, Lessons and Impact: 10:00 am – 11:45 am
The PANORAMIC View: Reflections from our Citizens' Panel: 1:00 pm – 2:00 pm
Launch of our new New Strategic Plan by our CEO, Cathy Fooks: 2:00 pm – 2:15 pm
Media are asked to check-in to the registration desk in the Lower Lobby, Grand Ballroom upon arrival.
*Please note the final session on March 10: Ontario Healthcare Leaders: Personal Experiences as Family Caregivers is
closed to the media
.
Media contact
: Anila Sunnak, The Change Foundation, Communications Specialist,
asunnak@changefoundation.com
, 416-205-1325. At event, text: 416-859-3242
Email The Change Foundation