eMarketDesk Launches Marketing Planning Tool SpendCalculator.com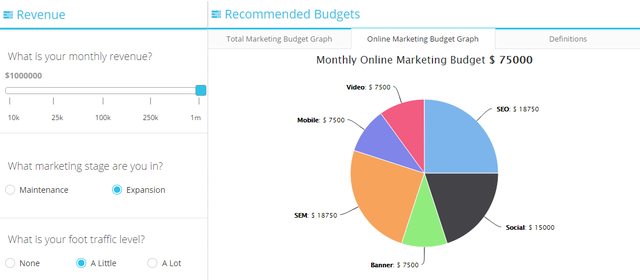 March 13, 2015 -
Spendcalculator.com
is designed to help small business owners and marketers quickly identify a marketing budget. Marketing decision makers often spend significant time in researching and preparing a marketing plan without ever coming across data on how other businesses allocate their budgets.
The
marketing calculator tool
uses recommendations from the
United States Small Business Administration
as well as data conducted by Ad Agency
Zenith Optimedia
. Calculations are made based on three main factors; the monthly revenue, the marketing stage and the foot traffic level to determine a standard marketing budget.
This budget is broken down by allocation into TV, Digital/Internet, Print, Outdoor, Radio and Promotional mediums. The Digital or Internet medium is further segmented into recommendations by
SEO
,
Social Media
,
Display/Banner Advertising
,
SEM
,
Mobile Advertising
and
Video Advertising
.
For more information on the methodology in
calculating a budget for your marketing plan
, visit
eMarketDesk.com
.