Captured Dimensions Leading Entrepreneurial Charge at NTEC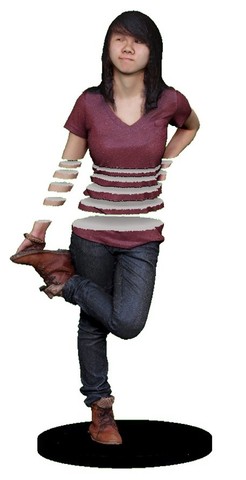 FRISCO, TX (March 13, 2015) – The
North Texas Enterprise Center (NTEC)
is home to over two dozen entrepreneurial ventures, each with their own exciting, different and unique business proposition. One company making great strides with an interesting concept is an early stage firm named
Captured Dimensions
.
Imagine if you will a wedding cake, topped not by a cheap, generic, plastic bride and groom, but rather a fully textured 3-D model of the actual bride and groom, realistic down to the tiniest of lifelike details.
In the same way the bride and groom were digitally reproduced into the 3-D realm, Captured Dimensions is also creating the same realistic 3-D version of infants, children, pets and other loved ones. They are currently operating one of the first studios of its kind in the United States. While the process behind the scenes may seem complicated, the process of 3-D printing isn't as complex as one might think.
First, a subject poses for a session surrounded by over 80 DSLR cameras, which photograph the subject simultaneously from all conceivable, 360-degree angles. These digital images are fed into a computer and through the process of high-resolution photo manipulation, a model is created. This digital model, fed into a printer, can now be produced into a realistic 3-D object. The 3-D printer then takes layered data and prints-or "builds up"-the 3-D, full-color object one tiny 0.1mm layer at a time. The finished product takes a couple of weeks to deliver, at a cost beginning at under a hundred dollars.
As an entrepreneurial company, Captured Dimensions chose
NTEC
as its home base due to the resources and collaboration offered at the business accelerator. "
NTEC
provided the environment to focus on what we do well and capitalize on the strengths of others in our proximity," said Captured Dimensions CEO & founder Jordan Williams. "Through the open mentorship and sense of community provided by
NTEC
to early stage companies like ours, we've gained valuable insight in so many critical areas-and it's kept us focused on the task at hand of making serious progress as a company."
Captured Dimensions recently launched its first retail studio, PhotoSculpt, which now houses their primary scanning studio in Frisco, Texas. Designed to make it easy for consumers to see examples of 3-D printed sculptures and then be scanned themselves for their own sculpture, PhotoSculpt is one of only a handful of places in the world where this technical capability is now available for anyone to utilize.
While the goal of
NTEC
is to foster acceleration and mentorship of entrepreneurial ventures, the ultimate measure of success is to see companies graduate from the program, something Captured Dimensions hopes to do in the near future. "Right now, we're still self-funded," says Williams. "But we've come a long way with our own resources, and we will be entering a rapid growth phase soon, hopefully with the right funding partners."
For Captured Dimensions, no job is too small or too difficult. Adds Williams, "If you can pose it, we can build it."
See a video
of Captured Dimensions 3-D printing process. For more information on NTEC, please visit:
www.ntec-inc.org
.
About NTEC
The North Texas Enterprise Center (NTEC) is one of the largest business accelerators in Texas. With its 50,000-square-foot facility located just outside of Dallas in Frisco, TX, NTEC provides entrepreneurial ventures with enterprise-class infrastructure, growth-stimulating resources, mentorship and programs in an open, collaborative environment. Established in 2002 through a partnership with the city of Frisco and its economic development corporation, NTEC is dedicated to fostering innovation, creating jobs and expanding the economic base of North Texas.
Media Contact:
Jeffrey Cheatham
Senior Account Manager
TrizCom PR
Office: 972-247-1369
Mobile: 972-961-6171
jeffc@trizcom.com