Get the Most from Your Next Vacation with Travel Tips from The Maritime Explorer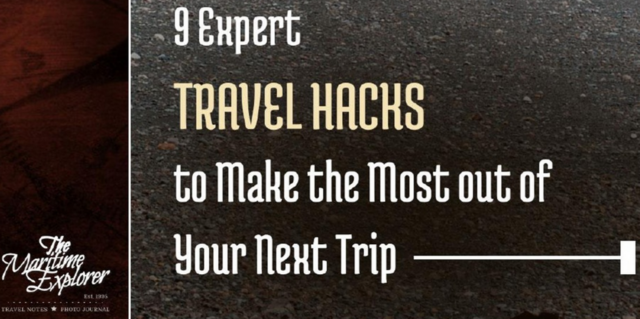 March 20, 2015 - If you have the desire to travel but simply just don't know where to start, let the team at The Maritime Explorer help guide you with their latest white paper "9 Expert Travel Hacks to Make the Most out of Your Next Trip."
While traveling is without a doubt appealing to many of us, most people delay their trips for fear of how stressful and expensive the planning process can turn out to be. Luckily, the team at The Maritime Explorer has collected some of the most cost-effective and stress-reducing travel hacks that make it possible for anyone to plan the vacation of a lifetime.
The first step to travel success is to locate the best discounts and savings that the web has to offer. It's no question that traveling around the world can quickly add up, but knowing where to look for the best deals, specials and discounts can help you cut costs and do more on your trip. One way to take advantage of some of the lowest travel rates is to book your trip during your destination's off-season. Not only will this help you save on your airfare and accommodation costs, but it will also help you see and do more since your destination will be less crowded than usual.
Another expert travel tip is to consider renting a house rather than staying at a hotel during your trip. Websites such as Airbnb and Homeaway are perfect for travelers who are looking for an alternative to hotel accommodations. Aside from being much cheaper than a hotel, renting a home or apartment for the duration of your stay will allow you to have a home cooked meal while on the go and help you cut down on the costs of eating out on your trip. Find a nearby grocery store, or check out some of the local street vendors for a more affordable way to dine during your travels.
Most people feel that traveling on a budget means cutting some things out from their travel itinerary. However, there is a variety of services you can take advantage of to save more while experiencing all that your destination has to offer. Make it a point to check with a trip planning service to take advantage of their free travel guides and exclusive member only discounts to the area's best tourist attractions. Additionally, search for some free or affordable activities to do once you've arrived at your destination, including 'city passes' and free museums.
Planning the trip of a lifetime shouldn't be a burdensome task. Make your trip planning process easier than ever and download the white paper from The Maritime Explorer by visiting
http://themaritimeexplorer.ca/2015/02/27/white-paper-9-expert-travel-hacks-make-next-trip/
.
If you have the desire to travel but just don't know where to start, check out the travel blog and writings from The Maritime Explorer. Featuring destinations from all across the world, The Maritime Explorer is proud to share tales of his travels and shed some light on some of the world's most popular and well-known destinations. Find some inspiration for your next trip by visiting
themaritimeexplorer.ca
.
Email The Maritime Explorer