Local Dentist Now Offering Mini Dental Implants for North Smithfield Patients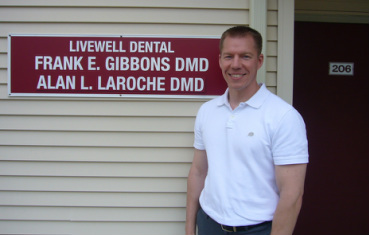 March 27, 2015 - North Smithfield, RI –
Dr. Frank Gibbons, primary dentist at LiveWell Dental, is pleased to share that he is now offering
miniature dental implants
as a
restorative procedure
for implant and denture candidates. Dr. Gibbons is excited to be able to provide such a modern procedure in-house, at his North Smithfield practice.
"Mini dental implants have changed the face of implant placement by making procedures much easier," says Dr. Gibbons. "Mini dental implant placement is minimally invasive, efficient, and cost-effective. They also eliminate the need for any bone grafting and have a much shorter healing period than traditional implants. Patients can usually expect their mini dental implants to be placed in a single dental appointment."
Mini dental implants are typically used for the stabilization of a complete denture. The implants are inserted through a small hole in the jaw in such a way that allows their round, ball-shaped head to protrude from the gum line. The full dentures are crafted to include housing units that snap onto the head of the mini dental implant. The result is a removable full denture that rests comfortably atop the gum line and locks into place.
"My staff and I are able to save our patients a lot of time and money with mini dental implants," Dr. Gibbons says. "Patients are also given peace of mind knowing that mini dental implant placement is gentler and won't have any adverse effects for their jaw structure."
Dr. Frank Gibbons offers are variety of procedures within the restorative dentistry field, including
single
and
multiple tooth replacement
, as well as implant-supported bridges and dentures. Dr. Gibbons uses products manufactured in the U.S.A and believes any dental implant procedure can be completed with mini dental implants.
Mini dental implants create a stable solution for complete dentures and allow patient to eat and speak with ease without the embarrassment associated with loose dentures. No denture adhesives or creams are needed with mini dental implants, and patients can truly regain their quality of life with a brand new, functional smile.
About Dr. Frank Gibbons and LiveWell Dental
A native Rhode Islander, Dr. Frank Gibbons earned his Doctor of Dental Medicine Degree (DMD) in 2006 from Boston University, where he graduated Magna Cum Laude and was granted the American College of Prosthodontics and Omicrom Kappa Upsilon award due to his scholastic and academic achievements. Prior to earning his degree in dental medicine, Dr. Gibbons attended the University of Rhode Island and achieved a Bachelor of Science degree in Biology with Honors and was granted the Alpha award for outstanding research in Biology. Dr. Gibbons brings both his professional and interpersonal skills to providing care in all aspects of Family and Cosmetic Dentistry. He is a Member of the Rhode Island Dental Association as well as the American Dental Association.
For more information, please visit
http://www.livewelldental.com/