The Maritime Explorer Helps Readers Familiarize Themselves with the Island Country of Barbados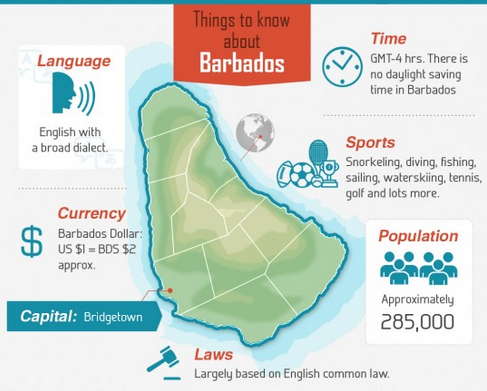 March 31, 2015 - The most British island in the Caribbean, Barbados is a top travel destination for many tourists and adventurers alike. Familiarize yourself with the top things to know about the island country with help from The Maritime Explorer.
Whether you're drawn to the country by its luxurious white sand beaches or its luscious rolling hills and gullies, a trip to Barbados is easily one you won't soon forget. Getting around the island is easy and fun, with distance of only 21 miles long and 14 miles wide.
The small country is home to slightly over 285,000 citizens, and native Barbadians are known for their exceptional warmth, casual charm and friendliness. No matter what your age is, Barbados brings out your youthful spirit of fun and excitement. This level of kindness has been cited as one of the largest reasons that travelers keep coming back to the island, as the country holds one of the highest repeat visitor rates in the world of 39%.
While the outer banks of the island are filled with crisp, white sand beaches, the innermost parts of the island are filled with lavish greenery and forests. In fact, the name "Barbados" is derived from the Bearded Fig Trees that were once found in abundance on the island.
All across the island, there are plenty of activities that travelers can take advantage of. From snorkeling or diving through the island's coral regions to enjoying a day on the golf or tennis courts, Barbados is the perfect destination for anyone looking for a fun-filled adventure.
Best of all, the country is one of the most accessible islands in the entire world. The country is filled with pure drinking water and utilities are available all across the region. In 2011, the United Nations Human Development Index ranked the country in the highest bracket of 'Very High Human Development.'
Whether you already have a trip planned to the island or are still on the hunt for the perfect destination for your next trip, Barbados just may be the solution. Learn more about the small island country by checking out the infographic from The Maritime Explorer and visit
http://themaritimeexplorer.ca/2015/03/19/infographic-things-know-barbados/
.
No matter if you travel for the thrill of adventure or the pleasure of relaxation, follow The Maritime Explorer along his journeys as he shares some of the top gems of the world's most popular destinations. Read about the latest adventures of The Maritime Explorer by visiting
themaritimeexplorer.ca
.
Email The Maritime Explorer