Stay Warm without Breaking the Bank with Help from the HVAC Experts at Tudi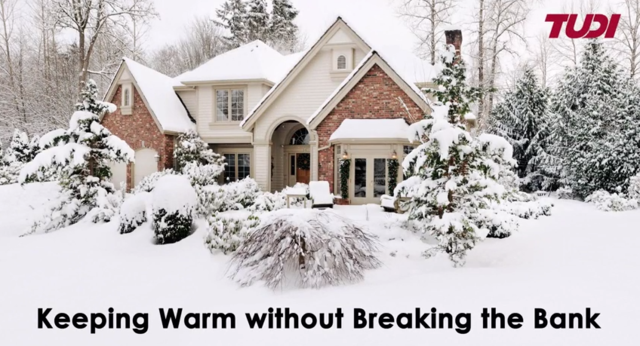 April 2, 2015 - As we enter the final stretch of the winter season, Tudi wants to help homeowners keep their energy costs to a minimum with their newest video on how to stay warm without breaking the bank.
Throughout the winter season, many homeowners struggle to keep their homes warm and comfortable. Frigid outdoor weather leaves many homeowners tempted to dial up their thermostat a few extra notches, leaving homeowners with a hefty energy bill at the end of the season.
However, there are a few cost-cutting tips that can help you save on your energy bill. Don't let keeping your home warm become a financial burden and follow these tips from Tudi's residential heating experts.
If you have a fireplace in the home, make sure you keep it sealed shut when it's not in use. While a fireplace is a good way to keep your home warm when lit, the hot air in your home can easily escape through a dormant fireplace if it is not sealed shut, leading to a higher than average heating bill. A chimney protector or even just a wooden board can be used to help you seal off your fireplace.
Another idea that can help you save is to exchange your old mattress pad and sheets for some heated bedding. Using an adjustable temperature setting, heated bedding will allow you to stay warm even after you lower your thermostat to a cooler nighttime setting.
If your home is filled with hardwood floors, try using an area rug to help trap cold air and keep your feet warm. According to a recent report from the BBC News, floors that aren't covered by a rug can account for up to 10% of total heat loss in the home.
A window's drapes, curtains and blinds can all be used to trap hot air and insulate a room in your home. Using the right fabric for your windows can help to trap hot air in or block cold air from entering, so make sure to close your curtains at night and open them on sunny winter days to help capture heat from the sun's rays.
Keeping your home cozy and comfortable doesn't have to leave your wallet empty. Learn more about ways you can keep your home warm and check out Tudi's latest video at
www.tudi.com/keeping-warm-without-breaking-the-bank-video
.
If you feel that your heating bill is much higher than it should be, it may be time for a new furnace or heating system. Make sure you choose the right furnace to keep your home comfortable at an affordable cost with help from the Pittsburgh HVAC technicians at Tudi. Trained in some of the nation's leading manufacturers, our heating technicians can help you choose and install the right system for your living needs. Contact us today for a free estimate by visiting
www.tudi.com
.