Explore Some of the Most Hidden Gems of Barbados with Help from The Maritime Explorer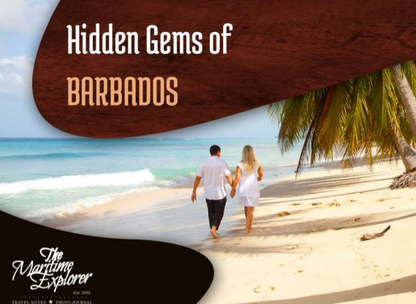 April 3, 2015 - Whether for its lush tropical setting or luxurious comforts and amenities, thousands of travelers take a trip down to the small island country of Barbados each year. Discover what makes this small country one of the world's must-see travel destinations by checking out the latest slideshow from The Maritime Explorer.
While certainly small in size, the island of Barbados is filled with popular tourist attractions and breathtakingly beautiful sights. Whether you're enjoying a relaxing day on one of the island's white sand beaches or exploring the tropical interior, there is no end of excitement nestled within the small country.
However, many travelers neglect the island's most treasured locations in favor of more popular attractions. The Maritime Explorer hopes to shed some light on the nation's most hidden gems in their latest slideshow.
Hunte's Garden, while not as popular as Andromeda Garden, remains one of the country's must-see attractions. Created by horticulturist Anthony Hunte in the 1950s, Hunte's Garden was just recently opened to the public a mere eight years ago. The garden is home to a lush Caribbean plant and animal life that is sure to impress any nature lover.
For travelers more in search of the aquatic attractions the island has to offer, Mullins Beach is a can't miss. While often overshadowed by Barbados's Crane Beach, Millions Beach actually offers a better environment for swimming and snorkeling. In fact, due in large part to the beach's powdery white sand and crystal clear water, the beach was named Fodor's Choice in the book '535 Best Beaches in the U.S., Caribbean, and Mexico.'
Another one of these hidden gems is The Animal Flower Cave. Located on the most northern point of Barbados, Animal Flower Cave is a spectacular alternative to the more popular Harrison's Cave. Named for the large number of sea anemones found in the pools of the cave, Animal Flower Cave offers visitors the opportunity to explore and take in the beauty of nature. Be sure to spend some time outside the cave as well, as the area is filled with fine eateries and one-of-a-kind craft vendors.
No matter if you spend your time visiting the popular tourist destinations or exploring the country's more hidden gems, Barbados offers travelers of any age the vacation of a lifetime. Learn more about some of the island country's most hidden gems by checking out the slideshow at
ttp://themaritimeexplorer.ca/2015/03/25/slideshow-hidden-gems-barbados/
.
Whether you're a seasoned traveler or just starting to explore the world's most popular destinations, prepare yourself for the journey ahead with help from The Maritime Explorer. Follow along as Dale Dunlop, The Maritime Explorer shares tales from his latest adventures by reading his travel and adventure writings at
themaritimeexplorer.ca
.
Email The Maritime Explorer