Peacock Data celebrates successful launch of pdSurname software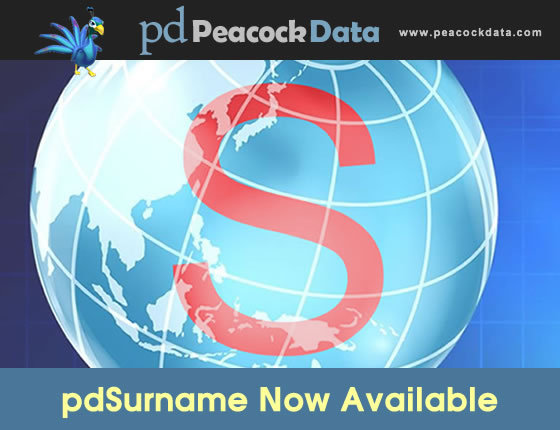 April 6, 2015 - In the 30 days following the March 2, 2015 release of
Peacock Data's pdSurname last name software
, more units have been sold than any previous new product offering. The California-based company is celebrating.
According to spokesperson Barbara Adair, "We are encouraged and grateful for the response to this outstanding new software product. It is very exciting time for us and our customers."
The software is marketed to multiple groups. At its foundation, pdSurname assists companies and organizations attempting to merge lists of names. "This is particularly important in the medical industry where patient records can be in multiple places with slightly different versions of a name," Barbara Adair noted.
The software is also loaded with language and race information about more than 335,000 last names providing a demographic resource never before available on this scale. It identifies more than 600 languages, dialects, and ethnic groups, from English and Spanish to Russian and German to Japanese and Arabic.
Barbara Adair added, "Students, teachers, scholars, and those researching family histories benefit as well because this software is recommended for study in genealogy, onomatology, anthroponymy, ethnology, linguistics, and related disciplines."
The package is hefty weighing in at 16.8 GB for the standard version and 22.9 GB for an
enhanced Pro edition which incorporates sophisticated fuzzy logic allowing matching even when names are entered with misspellings or other typographical errors.
The software is available for immediate download and can currently be purchased at a
25 percent introductory discount
(Pro, $371.25 USD; Standard, $224.25 USD) or as part of bundles also on sale,
pdSuite Names
($645 USD) and
pdSuite Master Collection
($795 USD).
MORE ABOUT PDSURNAME >>
About Peacock Data
California-based Peacock Data are the makers of database software products used by business, organizations, churches, schools, researchers, and government. For more than 20 years their specialized software has been utilized in applications you use every day.
Affiliates program
DO YOU WANT TO SELL PEACOCK DATA PRODUCTS?
The firm's affiliates program offers a unique way for your website or app to link to the Peacock Data product line. You will be provided with all of the tools necessary to convert your existing traffic into sales along with full support from dedicated affiliate managers.
Apply now to join the program and earn substantial rewards!
Attachments