Peacock Data adds new names bundle to software lineup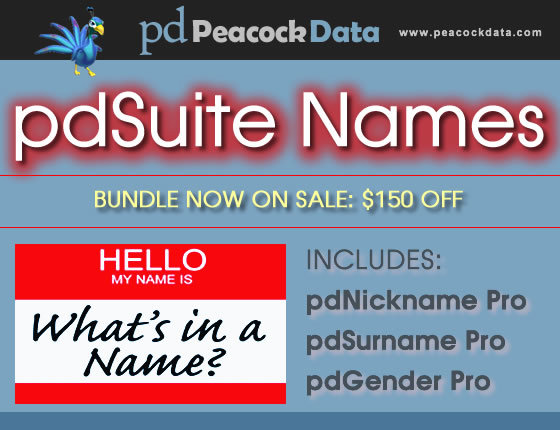 April 8, 2015 - Peacock Data added a new software bundle to its product list following last month's release of the California-based firm's pdSurname last name matching package. The bundle, called
pdSuite Names
, includes the Pro version of the new surname software, plus the company's already well-known pdNickname Pro and pdGender Pro products.
pdNickname Pro
is a highly-regarded first name and nickname product.
It is an easy-to-use, comprehensive, and up-to-date software package designed to facilitate matching first names that are dissimilar because one is a given name while another is a nickname, diminutive, or other variation. It covers more than 250 languages.
pdSurname Pro
does for last names what pdNickname does for first names.
The package is designed to facilitate matching surnames that are not exactly the same but are close in relationship, spelling, or sound. It covers more than 600 languages.
pdGender Pro
is a powerful gender coding creation.
It allows you to send mail with a personal touch as well as to filter, map, and analyze your data based on this critical demographic. It covers more than 250 languages.
All three packages come equipped with fuzzy logic which allows matching even when lists have misspellings or other typographical errors. Plus, as a further benefit, all three are also recommended for genealogical and scholarly research.
The new bundle lets users accomplish projects in ways not before possible on this scale. It lists for $795, but currently is on sale from the company's website for $645, more than half off the list prices of the individual products.
MORE ABOUT PDSUITE NAMES >>
About Peacock Data
California-based Peacock Data are the makers of database software products used by business, organizations, churches, schools, researchers, and government. For more than 20 years their specialized software has been utilized in applications you use every day.
Affiliates program
DO YOU WANT TO SELL PEACOCK DATA PRODUCTS?
The firm's affiliates program offers a unique way for your website or app to link to the Peacock Data product line. You will be provided with all of the tools necessary to convert your existing traffic into sales along with full support from dedicated affiliate managers.
Apply now to join the program and earn substantial rewards!