Mr. John Helps Customers Plan for Construction Site Sanitation Needs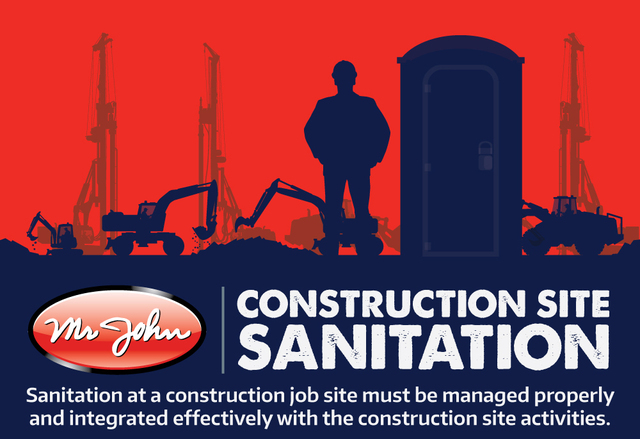 April 7, 2015 - When planning a construction site, setting up the proper sanitation needs can quickly become an afterthought. Don't let your construction site sanitation suffer and seek out help from the temporary sanitation solutions from Mr. John.
Sanitation at a construction job plays a key role in the overall efficiency of your site. Having the proper sanitation solutions on hand will not only keep your workers happy, but may also help reduce lost labor time and increase the flexibility of your worksite.
Planning ahead is the most fundamental step along the path to improving the efficiency of your construction site with proper temporary sanitation solutions. Once you understand your workforce and your work environment, you can begin to create a site that promotes productive work activity as well as the health and wellbeing of your employees.
Portable bathroom trailers and toilet rentals should be the first sanitation concern you address on your site. Government regulations require that toilet facilities be made available to all workers on the construction site.
According to the American National Standards Institute, at least one toilet should be provided for every ten workers. After assessing your work environment, there are several temporary toilet solutions you can choose to meet the needs of your construction site. Whether you go with heavy-duty toilet trailers or individual sling and hi-rise toilet rentals, choosing the right facilities can help you save time and money on your site.
Secondly, every construction site must have a source of safe-to-use potable water for employee use and consumption. Water holding tanks and fresh water sinks are the preferred solutions to this problem, as they provide clean, running water to your worksite.
Washing and shower facilities are also a must-have for any worksite or construction zone. According to regulations, construction site managers must provide at least one shower unit for every ten employees of each sex. These units should include a supply of body soap and clean towels in addition to both hot and cold running water. Most temporary sanitation companies provide toilet trailers that feature a combination of restrooms, shower stalls and hand washing stations to handle all of your site's sanitary needs.
Keeping your site's sanitation needs in line will drastically improve the quality of your worksite in terms of efficiency and employee welfare. Don't let poor sanitation hold your worksite done and check out the infographic from Mr. John by visiting
http://mrjohnpit.com/infographic-construction-site-sanitation/
.
If you're shopping around for the right sanitation solution provider for your worksite, look no further than Western Pennsylvania's Mr. John. Since 1964, Mr. John has been serving Pittsburgh and its surrounding areas with innovative sanitation solutions to meet any need. Discover how the temporary sanitation experts at Mr. John can help you by visiting
mrjohnpit.com
.