Concordia Publishes Tips for Relieving The Stresses That Come With Being a Caregiver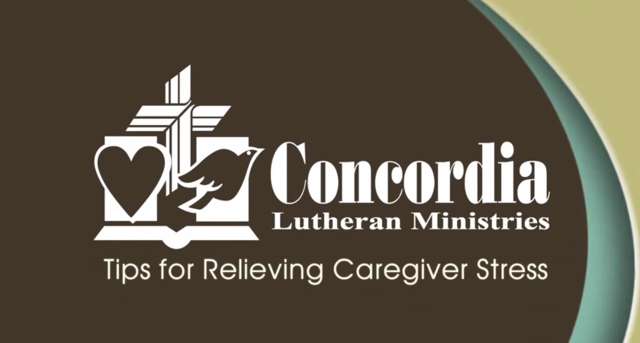 April 15, 2015 - Across the country, there are around 44 million people who could be classified as "non-professional caregivers." From family members to volunteers, anyone can provide care to a disabled friend or elderly loved one. While helping someone can be a rewarding experience, it can also lead to a lot of added stress. Make sure you know how to step away and reduce your burdens with help from the expert caregivers at Concordia Lutheran Ministries.
If you feel like your caregiving efforts have become a burden for you, don't be afraid to ask for help yourself. Your friends, family and loved ones are often more than willing to lend you a helping hand regardless of whether they are close to the person you are caring for. Ask for specifics and provide direction on how they can help lessen your load.
A main source of stress for many caregivers comes from a lack of sleep. Getting plenty of rest is not only crucial to help lower your stress, but also to strengthen your body's immune and central nervous systems. Make it a point to set aside some time for you where you can allow your body to rest and recharge for the next day.
One thing that many non-professional caregivers forget when putting all their efforts towards taking care of another is to take the time to care for themselves. Maintaining a regular exercise routine and a healthy diet is a good way to ensure your body is getting what you need so that you can stay energized and help others to the best of your ability.
Last but not least, don't be afraid to seek out additional professional help. Looking for the extra aid of a professional caregiver is not a sign of failure. Look at it as an opportunity to provide your loved one with even more services that can help bring comfort to their everyday life.
Familiarizing yourself with the emotional, physical and behavioral warning signs is a good place to start. Make sure you know how to handle the added stresses that caregiving can bring by checking out Concordia's video at
http://www.concordialm.org/blog/4-tips-for-relieving-caregiver-stress-video
.
Whether you're looking for adult day services, home care services or other levels of senior health care, Concordia has the professional knowledge and experience to help guide you in the right direction. At Concordia, our dedicated caregivers are always available to help relieve you in times of need. If you have questions about how Concordia can help you care for your loved one, please contact us today and visit
www.concordialm.org
.
Email Concordia Lutheran Ministries