Concordia Provides Wintertime Health Tips for Seniors in Latest Slideshow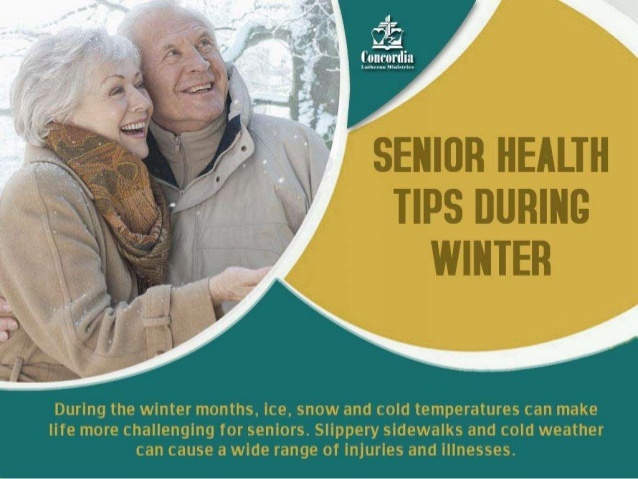 April 15, 2015 - Cold, winter weather can be harsh no matter how old you are. However, wintertime brings an added amount of hazards for seniors. Make sure you know how to stay healthy and free of injury in the winter with help from the senior care experts at Concordia Lutheran Ministries.
From slips and falls to the common cold, there are many obstacles for seniors to overcome with each passing winter. However, knowing how to prepare yourself for the season's most harmful elements can keep you active and healthy.
One of the biggest obstacles seniors face over the winter months is ice. Each year, more than 1.6 million American seniors go to the emergency room for fall-related injuries. Before you head outdoors to brave the icy elements, make sure you stretch and wear proper footwear. Taking these simple actions can help you prevent slips, or even help you catch yourself and regain your balance if you do happen to fall.
Another big challenge of the winter season is keeping warm. Colder temperatures can lead to cases of frostbite and hypothermia, so keeping your body warm should be a top priority if you find yourself outdoors for an extended period of time. Warm socks, heavy coats, gloves and a scarf should always be worn to help cover up any exposed skin during very cold temperatures.
Colder weather and harsh elements tend to keep seniors indoors for much of the winter season. What many seniors fail to realize is that this seclusion could lead to bouts of depression. Make it a point to visit with family and friends during the winter season, to help you stay active and avoid wintertime depression.
Wintertime is also one of the peak seasons for emergencies due to winter storms and power outages. Make sure you are prepared for when disaster strikes and keep plenty of flashlights, electric blankets and non-perishable foods on hand in case an emergency occurs in your area.
While the winter season may make you more prone to dangerous health hazards, avoiding them doesn't have to be a headache. Make sure you are prepared for a healthy winter season and check out the slideshow from Concordia Lutheran Ministries at
http://www.concordialm.org/blog/slideshow-senior-health-tips-for-winter
.
If you or a loved one is in need of some extra assistance in their senior health care needs, consider what Concordia Lutheran Ministries can offer you. Whether it be retirement living or personal care, there is a Concordia campus perfect for your needs. Learn more about what Concordia can offer to you by visiting
http://www.concordialm.org/
.
Email Concordia Lutheran Ministries