Preferred Plumbing Heating and Air Conditioning Offers Tips To Stop Your Noisy Air Conditioner From Costing You Money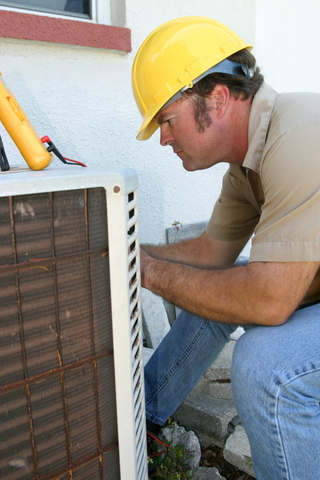 April 16, 2015 - Turning on the air conditioner is generally combined with the start of spring, warmer weather, thoughts of relaxing, lazy afternoons…but, it's hard to doze on the couch if you have a noisy air conditioner. Your air conditioner should not make unusual sounds, and if it does, you definitely should contact the professionals at Preferred Plumbing, Heating and Air Conditioning. Often, a noisy air conditioner just needs minor maintenance, but be sure to address any issues before they become bigger problems that affect your comfort and possibly your pocketbook.The most basic issues that can cause a noisy air conditioner are:
Blocked Air Flow:
your air conditioner runs best with efficient air flow. When too many ducts are closed, filters are clogged, or even furniture blocks a vent, this can affect the pressure in your duct system causing increased sound level. However, inefficient air pressure can also be caused by poorly designed ductwork and can causes your system to run inefficiently, as well. Duct design is just as important as the mechanical equipment that cools your home.
Dirty Ducts:
sometimes you may hear a rattling or other noise above that may be caused by something caught in the ducts: nails, small toys or other debris. Our professionals will be happy to inspect the ducts and make the appropriate repairs or recommendations for you.
Loose Screws:
the vibration of the system when it is running can occasionally cause screws to loosen throughout the system causing rattling sounds. Again, this is an easy fix for an A/C technician.
Fan Blade:
air conditioners have two different fan blades. Occasionally these can wear out or break, causing them to rub against the fan housing and possibly damaging your unit. Replacing the blade sometimes requires special tools. So, call the experts at Preferred Plumbing, Heating and Air Conditioning.
Coil Fins:
the indoor coil can often become clogged with dirt or become bent emitting a humming noise. Sometimes they can be cleaned easily with a vacuum cleaner, but if you aren't sure how to do this or if they are bent, it's best to let our NATE certified technicians at Preferred Plumbing, Heating and Air Conditioning do this quick fix.
In addition to these minor issues, a noisy air conditioner can signify a problem with the motor or the compressor. A
21-point inspection
from Preferred Plumbing, Heating and Air Conditioning will be sure to catch any issues and leave you with the most efficiency your current system can provide.
If it's time to replace your noisy air conditioner, Preferred Plumbing, Heating and Air Conditioning can help you through the decision process. Our experts will help you to determine which new system is best for you and your family. We can also work with you on
financing options
, including the
Ygrene
and HERO programs. We are also a certified Quality Install company for Socal Edison.
Call us today at (760) 863-0832 to schedule a thorough inspection, and we'll be sure that your AC keeps you comfortable in the most efficient way…and the only humming that might be heard won't be from the A/C, but from your peaceful snoring on the couch.
Email Preferred Plumbing, Heating and Air Conditioning