G6 Sports Helps Athletes Determine What Supplements to Take to Help Them Meet Their Fitness Goals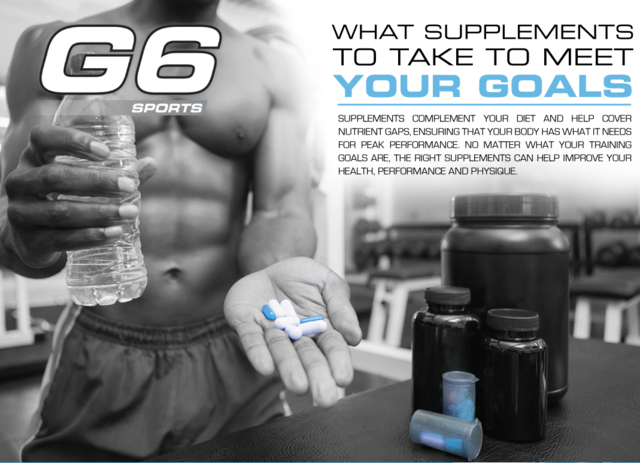 April 17, 2015 - Choosing the right supplements may be all it takes to push your body to its limit and help you unlock your true potential. With no shortage of the workout supplements available to today's athletes, the sports nutrition experts have released their guide to helping you choose the right workout supplements to help your body perform.
Supplements are designed to complement your diet and help cover up any nutrition gaps to keep you performing at peak levels. No matter what your training goals are, using the proper workout supplements can help you get there.
One of the most widely used and commonly found workout supplements on the market is whey protein isolate. Rich in protein, vitamins and minerals, whey protein isolates are commonly used to kick start your body's muscle growth and recovery. When shopping for whey protein isolate, make sure it contains less than3 grams of sugar and less than 6 grams of carbs in order to get ultimate results.
Staying on track with your fitness goals isn't always easy. Meal replacement supplements are a great way to help you stay on course even when you're on the go. Look for meal replacement supplements that are full of power-packing vitamins and minerals to keep you performing all day long.
Energize your day with creatine supplements, a slow releasing supplement that helps you perform better, work harder and last longer all throughout the day. One of the most popular ways to include creatine supplements in your diet are through pre-workout energy drinks.
It's a well-known fact that antioxidants are a key component of any healthy lifestyle, but what many athletes aren't aware of is their benefits to sports nutrition. As you work out and train, your body becomes more prone to free radicals, infections and muscle inflammation. Antioxidants work to defend the body from harmful free radicals while fighting off muscle inflammation to help you recover.
Branched Chain Amino Acids are key to helping you push yourself to the limit. Taking a sports nutrition supplement rich in BCAAs right before you work out can provide your body with the extra energy you need to go the distance. Furthermore, the enhanced protein synthesis caused by BCAAs will boost muscle growth throughout the body.
Using a variety of sports nutrition supplements is the best way to make sure your body is primed to perform. Learn more about some of the most power-packed workout supplements on the market by visiting
http://www.g6sportsnutrition.com/infographic-what-supplements-to-take-to-meet-your-fitness-goals/
.
No matter what your fitness goals are, let the power-packed sports nutrition supplements from G6 Sports help you get there. Our cutting edge formulas are designed to keep you moving and allow your body to perform at its peak all day long. Learn more about what our supplements can do for you by visiting
www.g6sportsnutrition.com
.