CU-Boulder's Leeds School of Business to host groundbreaking international conference on ethics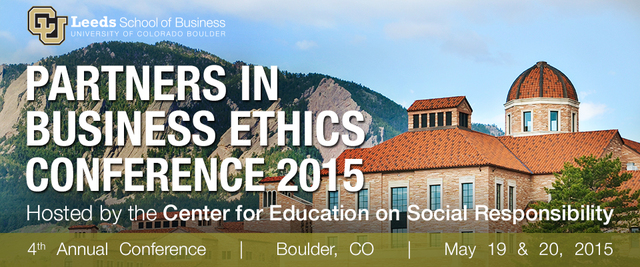 April 23, 2015 - The Leeds School of Business' Center for Education on Social Responsibility at the University of Colorado Boulder will host an international conference on
business ethics
May19-20 in Boulder.
The Partners in Business Ethics (PBE) Conference convenes deans and academics from the world's leading business schools from nine countries with corporate leaders from such companies as Ball Corp., CH2M Hill, Hain Celestial Group, and WhiteWave Foods Company as well as senior executives from Walmart, Arrow and Newmont Mining. The conference will address the vital need for ethics education through the creation of a working doctrine that will provide guidance for the education of future business leaders.
According to a 2012
study
by the Ethics Resource Center, the "National Business Ethics Survey of Fortune 500 Employees," 60 percent of Fortune 500 companies operate comprehensive ethics and compliance programs, because they understand that employees who break the rules hurt morale, reduce efficiency and profitability, and expose the company to legal liability.
Of employees surveyed, 52 percent at Fortune 500 companies said they observed misconduct in their workplace during the last 12 months but 74 percent of those employees reported the misconduct when they saw it.
This is why corporate leaders consider business ethics and education in
corporate social responsibility
vitally important issues for the workplace. These leaders are concerned that business schools are not graduating future employees with the depth of understanding nor educational experiences necessary to recognize and address complex ethical situations when they arise.
The PBE agenda emphasizes the need for companies and universities to come together to define and adapt curricula that best prepares graduates to lead the great companies they will ultimately join. The conference is designed to be highly-interactive and case-driven, reflecting state-of-the-art teaching techniques that effectively promote enduring learning in the field of business ethics.
About PBE
The fourth annual
PBE conference
provides one of the only opportunities available for corporate leaders to play a critical role in discussing and refining the business ethics education provided at top schools around the country. This event will break new ground for collaboration between business and academic leaders on curriculum development and delivery of ethics education in both academic and workplace settings.
About CESR
Founded in 2007, the
Center for Education on Social Responsibility (CESR)
advances the Leeds School of Business at the University of Colorado Boulder's commitment to preparing future leaders to confront social, environmental, economic and ethical challenges faced by modern business.
CESR infuses values exploration throughout the required curriculum at the undergraduate and MBA levels, and offers cutting-edge electives and social responsibility classes for further ethical development. CESR's faculty deliver courses that challenge students to develop critical ethical inquiry and evaluate business practices along environmental, social and ethical dimensions.
Email Center for Education on Social Responsibility (CESR)