Peacock Data compares new pdSurname software with their pdNickname flagship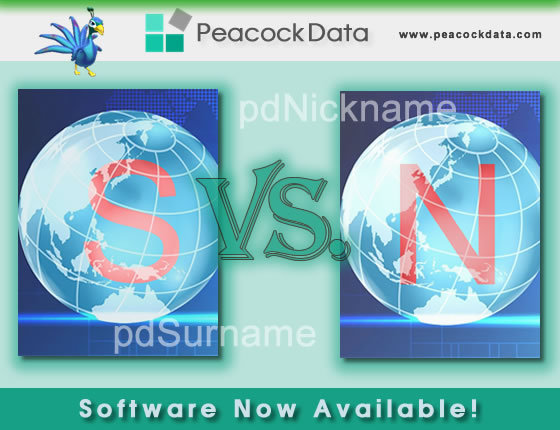 April 28, 2015 - After the release of Peacock Data's new last name software package early last month, questions began about how the new
pdSurname
product compared to
pdNickname
, the firm's long-standing flagship software offering. Barbara Adair, a spokesperson for the Bakersfield, California-based company, sat down for an interview about the similarities and differences between the two products. She is the company's chief development coordinator and has been with the firm since 2012.
"pdNickname has been in the field and in the business software marketplace for more than two decades, and pdSurname is new this season, but their general makeup and use are the same," Barbara Adair said. "The functional difference is that pdNickname is used to identify similar first names and nicknames, while pdSurname identifies similar last names."
However, she noted,
"pdSurname is much newer so it benefited from a new generation of technology during its development cycle. Technology, I should add that will be transferred to our first name software in the coming months and made available to users of pdNickname version 2.0 and above for free."
Both products are made up of a list of related names. Because many database records have the same person listed multiple times under slightly different names, such as 'William MacDonald' and 'Bill McDonald', the software allows businesses, organizations, and anyone working with lists of names, to merge database information and remove duplications.
"This allows our users to reduce long-term costs and improve customer service,"
Peacock Data's spokesperson exclaimed.
"This is particularly critical in the medical industry where patient records frequently can be in multiple places with slightly different versions of a name. This has lead to terrible consequences in some instances, along with unnecessary medical procedures and generally reduced medical care in many other instances."
The two most talked-about new features in the surname package is the addition of phonetic matches and new fuzzy logic technology.
Barbara Adair said, "While pdNickname precisely identifies short form nicknames, diminutives, and name variations, pdSurname is the first to include phonetic matches. These names are not born from the same name tree, but rather sound or are spelled similarly, such as 'Gonzalez' verses 'Gunsalus' and 'Davis' verses 'Davisse'."
"There are also new special features built in for last names with prefixes like 'Mc', 'Mac', 'O', 'De', 'La', 'Van', 'Al' and 'St', which allows us to match names like 'Garcia' with 'De Garcia' and 'Van Der Zant' with 'Van Zant' and 'Zant', which are possibilities missed by other products," she added.
The new fuzzy logic tools in the Pro edition of pdSurname is a development cycle ahead of the technology introduced with pdNickname 2.0 Pro, in December, 2013.
Barbara Adair explained,
"pdSurname Pro includes our new set of algorithms we call 'Fuzzy Logic Generation 2.0,' which will soon be in pdNickname Pro as well. Fuzzy logic allows names to be identified even when there are misspellings and other typographical errors, which frequently appear in lists. For example, this lets us to pick up such typos as 'Berryman' misspelled as 'Beryman', missing the double 'r', and 'Polheimer' phonetically transcribed as 'Poolhimer'."
The pdSurname literature indicates fuzzy logic generation 2.0 has five layers:
Phonetic misspellings
Reversed letters
Double-letter misspellings
Missed keystrokes
Name string manipulations
To our question about how the products are alike, the spokesperson said, "In addition to their similar function for businesses and organizations working with lists of names, both are recommended for genealogical and scholarly research and both include extensive language of use demographics to round out the packages."
"Both software products are one-of-a-kind proprietary resources that allow users to complete projects with significantly more success and in ways that were not possible before,"
concluded Barbara Adair.
"It is a very exciting time for Peacock Data and our many customers."
pdSurname and pdNickname each list for $495 for the Pro edition and $299 for the Standard version, but there is currently
introductory pricing for pdSurname set at $371.25 Pro and $224.25 Standard
.
Pro and Standard editions include the same names and features except the Pro versions come equipped with fuzzy logic. Standard editions have everything except fuzzy logic. Fuzzy logic allows matching when lists have typographical errors.
MORE ABOUT PDSURNAME >>
MORE ABOUT PDNICKNAME >>
About Peacock Data
California-based Peacock Data are the makers of database software products used by business, organizations, churches, schools, researchers, and government. They are an industry leader because of their superior solutions and renowned loyalty to customers.
For more than 20 years Peacock Data's specialized software has been utilized in applications you use every day.
MORE ABOUT PEACOCK DATA >>