Pay What You Want and Get Cool Offers for Mother's Day Gift Ideas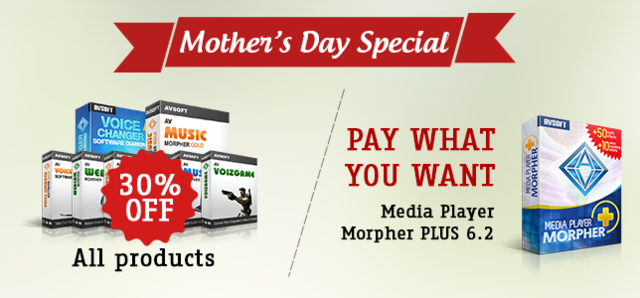 May 9, 2015 - Mother's Day is a wonderful time of the year when we honor the most special woman in our life. Since it is celebrated differently in many parts of the world, people are making all sorts of plans. "Moms have always gone through many levels of hardships raising their children, and it is easy to become emotional whenever they think about the past,' said Peter Nguyen, COO of Audio4fun, "That's why we believe the idea of recalling sweet memories from those early years will surely put a proud smile on any mother's face."
To encourage the users to stay creative in preparing gifts for their mothers, Audio4fun is currently offering
30% OFF storewide
on all its professional morphing programs, including
voice changer software
, audio/video editors, and
other advanced multimedia utilities
. By using these tools, anyone can bring back their childhood voice, then record/edit/morph it to produce a unique audio gift that no one else has ever had. More information can be found at
www.audio4fun.com/promotion.htm
Besides that, a fantastic promotional program called "Pay What You Want" also allows all users to grab Audio4fun's all-in-one Media Player Morpher PLUS at a price they are willing to pay. This complete media suite features numerous useful audio/video tools, a huge library of fabulous effects, as well as a ground-breaking Virtual Sound Bar that will enhance any media file and take the user's entertaining experience to a whole new level.
"We believe these offers will allow our users to surprise their moms with special memories that will be remembered forever, as our programs make it so easy to create such unique and personalized gifts for moms and all special friends," Nguyen added.
Audio4fun's Mother's Day special is valid though May 18, 2015. All readers can find in-depth specifications about each program at
http://www.audio4fun.com/