HVAC Brain Inc. Now Carries Siemens Commercial Room Thermostat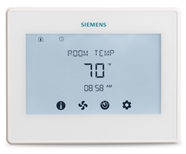 May 15, 2015 - HVAC Brain, Inc., retailer of HVAC/R equipment and replacement parts, has added Siemen's RDY2000 Commercial Room Thermostat to their extensive online selection of commercial thermostats.
The Siemens RDY2000 offers expanded capabilities beyond temperature control. This thermostat can interface with ventilation systems, economizers, and humidification systems to optimize indoor comfort as well as lower energy consumption. The Siemen RDY2000 Commercial Room Thermostat is ideally suited for use with commercial HVAC systems, including split systems and rooftop units. This thermostat is able to work with remote sensors and other comfort devices in order to manage temperature, humidity, and air quality.
Features of the Siemens RDY2000 Commercial Room Thermostat include:
Conventional and heat pump compatibility
3 stage heating / 3 stage cooling control for conventional systems
1-2 compressors / 2 stage auxiliary heat control for heat pump systems
Temperature and humidity sensors
Sleek design with backlit 5" LCD touchscreen
Fully programmable scheduling
HVAC Brain is pleased to add the Siemens RDY2000 thermostat to their existing Siemens product offering. HVAC Brain also offers Siemens automation components, control valves, damper and valve actuators and assemblies, and power meters.
To view HVAC Brain's online selection of Siemens thermostats, please visit
http://www.hvacbrain.com/Siemens-Thermostats-s/5121.htm
.
Why shop at HVACbrain.com:
HVAC Brain, Inc. is a fast growing retailer of HVAC/R equipment and replacement parts. At HVACbrain.com, HVAC professionals and maintenance managers can find a wide variety of 'hand-picked' high quality HVAC products such as air conditioning units, actuators and valves, compressors, motors, and coils. With HVAC Brain's tight vendor relationships, customers can choose and order products without worrying about the quality of products HVAC Brain offers.
Contact Info: HVAC Brain, Inc. 9545 Midwest Avenue, Unit A - Cleveland, Ohio 44125, 216-663-4822,
info@hvacbrain.com
.