iZeno honoured with 2015 Asia Partnership Awards from SugarCRM & Tibco Jaspersoft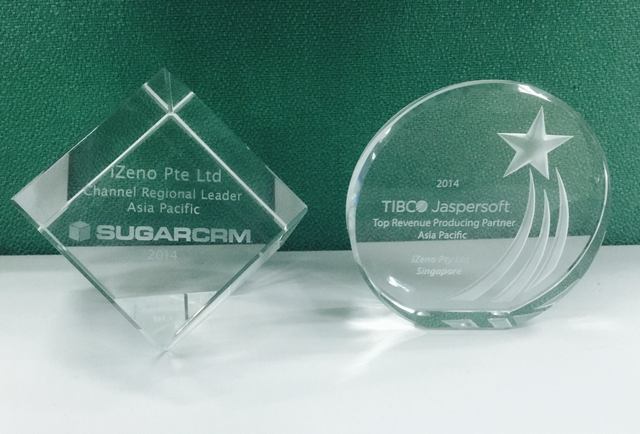 Singapore (May 16, 2015) - iZeno, a premier solution provider of best-of-breed Open Source business applications in the Asia Pacific Region, today announced that SugarCRM recently named
iZeno
as one of the Channel Regional Leaders in Asia for 2014. We are also honored to receive an award from TIBCO as the Top Revenue Producing Partner in Asia Pacific for 2014.
SugarCRM, the company that enables businesses to create extraordinary customer relationships with the most innovative and affordable CRM solution in the market, announced the winners of its 2015 Global Partner Awards last April 22, 2015.
SugarCRM has recognized the leadership and achievements of its partner community through a series of partner awards. This year, 26 award recipients from around the world were honored by company executives at a reception held in conjunction with SugarCon, the company's annual user conference.
"Everyone at iZeno is very happy and proud to have received the SugarCRM Channel Regional Leader in Asia for 2014," said Benny Ng, Senior Managing Consultant and Director for iZeno. "This Milestone in our journey to Excellence will fuel us to even Greater Height of Success."
On the same month, Royce Buñag, Regional Vice President - Jaspersoft at TIBCO Software Inc., a global leader in infrastructure and business intelligence software presented an award to iZeno as the Top Revenue Producing Partner Asia Pacific 2014.
Jason Lin, Technology Director for iZeno has received the award. He said, "This accolade speaks volumes about the impressive track record we have established and continuously improved. This Award would not have been possible without the continued hard work, dedication to quality service and pride our team has in our company."
iZeno has assisted hundreds of companies in Asia in defining, designing and deploying solutions to improve customer experiences and transform their sales, marketing and customer support processes as well as getting providing business with reporting and analytics solution to make better business decisions.
CRM Vertical solutions has been developed for organisations in multiple industries such as Government,Casino,Consumer electronic, Property, Insurance, Technology, Offshore Marine, business associations and certification bodies in improving business productivity and strengthen customer engagements.
iZeno Analytic team has also launched Jaspersoft Connector for SugarCRM to bring enterprise grade business intelligence tools embedded within the CRM. Aside from the convenience of single sign on, users can add in reports and dashboard created from Jaspersoft to be displayed as dashlets in Sugar allowing a unified user experience with SugarCRM interface.
To meet the increasing demand of deploying SugarCRM on a private cloud environment, iZeno partners with Amazon Web Services ("AWS") to offer Packaged SugarCRM managed services on AWS platform with Service level. Very often, customers with significant data traffic and volume due to business and technical requirements view this offering as being attractive with more flexibility than other deployment options.
In addition to SugarCRM Solutions and Products, iZeno also partners with Technology leaders and recognized as Red Hat Advance partner and AWS Advance partner, offering solutions to enterprises and aligning with their customer engagement, Big Data and cloud computing initiatives.
About iZeno
A premier solution provider of best-of-breed Open Source business applications in the Asia Pacific Region for more than a decade with offices in Singapore, Malaysia and Indonesia. iZeno partners with Technology leaders and recognized as SugarCRM's only Elite Partner in Asia, Jaspersoft Business Partner, Red Hat Advance Business Partner, IBM Business Partner and AWS Advanced Consulting Partner, offering solutions aligning with customer engagement, Big Data and cloud computing initiatives.Our professional service includes open source business application consulting, system integration and training. Our experienced team leverages extensive industry and domain experience and flexible tools and methodologies to successfully deliver seamless solutions including implementation, customization, integration, data migration, training and support.
About SugarCRM
SugarCRM enables businesses to create extraordinary customer relationships with the most innovative and affordable customer relationship management (CRM) solution on the market. By placing the individual at the center of its solution, SugarCRM is putting the "i" in CRM and empowering people at all levels of an organization to better understand and engage with customers. Based in Silicon Valley, SugarCRM is backed by Goldman Sachs, Draper Fisher Jurvetson, NEA and Walden International. More than 1.5M individuals in over 120 countries rely on SugarCRM. To learn more visit SugarCRM or follow @SugarCRM.
About Jaspersoft
Jaspersoft provides the most flexible, cost effective and widely deployed Business Intelligence suite in the world, enabling better decision making through highly interactive, web-based reports, dashboards and analysis. Leveraging a commercial open source business model, Jaspersoft provides end-to-end BI capabilities at a fraction of the cost of other vendors. The BI suite includes pixel-perfect enterprise reporting, ad hoc query, dashboards, OLAP and in-memory analysis, and data integration. Jaspersoft is the only BI vendor that enables companies to adapt to the new, virtualized world by providing a complete spectrum of on-premise, multi-tenant SaaS and cloud-based deployment options for both embedded and standalone business intelligence. Unlike traditional BI vendors, Jaspersoft is built on a modern, lightweight, standards-based architecture and offers greater vendor independence thanks to its open source codebase. Unlike niche BI vendors, Jaspersoft represents a safe choice with tens of thousands of production deployments across a wide range of industries.
Jaspersoft's open source business intelligence software has more than 12 million product downloads worldwide, 160,000 production deployments in 100 countries and over 13,000 commercial customers. Its BI suite is advanced regularly by a development community of more than 175,000 registered members. For more information visit:
www.jaspersoft.com
.