Peacock Data name software serves genealogists and scholars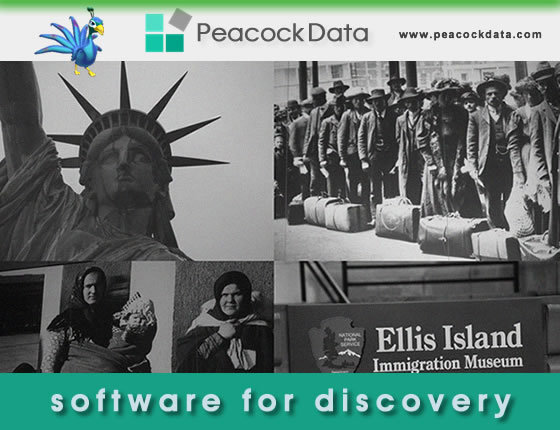 May 19, 2015 - For genealogists researching family histories and scholars studying the origin and history of personal and family names, Peacock Data's flagship line of name software is by far the most complete set of historical first name, nickname, last name, and gender information available.
The line of name software includes three landmark products, each with a separate focus. These include:
pdNickname,
an advanced name and nickname file;
pdSurname,
a new last name file; and
pdGender:
a gender coding database built on the same set of names as pdNickname.
While the chief use of these products has traditionally been by businesses and organizations trying to merge database records and remove duplications from their computerized name lists,
a sizable secondary market includes ancestry researchers, students, and teachers, because the software is recommended for study in genealogy, onomatology, anthroponymy, ethnology, linguistics, and related disciplines.
According to company literature, the information benefits from maturity due to more than 20 years of research and development along with an equal amount field testing. The most recent versions of the software each received more than five years of development time. The results are ground-breaking packages that serve a wide array of users.
Particular attention is paid to the origin of names and the languages and ethnic groups that utilize the names. But each product in the trio offers unique essentials to the study of names, with many features that have never before been available on this scale. They cover the globe and millenniums of history.
Peacock Data says they avoid using algorithms to make decisions about information and how it should be presented, and instead rely more on old-fashioned research. This takes considerably more time and resources, but the California firm says the results have been exciting and rewarding for their growing customer base.
Combined, the three products cover more than 600 languages, dialects, ethnic groups, and races, such as English, Spanish, Portuguese, French, Italian, German, Polish, Russian, Chinese, Japanese, Vietnamese, Korean, Hindustani, Arabic, Persian, and Yiddish, as well as Native American names and ancient Greek, Latin, and Hebrew names.
Plans for the most recent editions were initially written up in January 2009 and development began in earnest mid-summer of that same year. They were built during parallel development cycles and began to be made available to the public with the release of pdNickname 2.0 and pdGender 2.0 on December 30, 2013. pdSurname, which has the largest database, was launched March 2, 2015.
In the end, these innovative name database packages are one-of-a-kind proprietary resources that let users complete projects with significantly more success and in ways that were not possible before.
All three software products are available for immediate download from the
Peacock Data website
. They come with precision documentation, complete with examples, and perpetual multi-seat site licenses allowing installation on all computers in the same building within a single company or organization.
Optionally, they can also be licensed as part of the company's
pdSuite Names
and
pdSuite Master Collection
software bundles.
About Peacock Data
California-based Peacock Data are the makers of database software products used by business, organizations, churches, schools, researchers, and government. They are an industry leader because of their superior solutions and renowned loyalty to customers.
For more than 20 years Peacock Data's specialized software has been utilized in applications you use every day.
MORE ABOUT PEACOCK DATA >>