HVAC Brain Inc. Adds Siemens Power Meters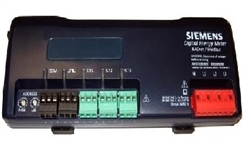 May 21, 2015 - HVAC Brain, Inc., retailer of HVAC/R equipment and replacement parts, has added Siemens power meters to their online selection of products.
Siemens power meters provide businesses with quality energy management solutions. These meters deliver precise amounts of energy as needed, when needed, to power high performance facilities. Siemens power meters are ideal for use in commercial, industrial, and government applications.
HVAC Brain's selection of
Siemens power meters
are BACnet-Modbus metering solutions, and are compatible with most BMS systems. When integrated with a building management system, power meters provide facilities with real time, accurate metering of electricity, allowing for advanced monitoring and control over energy usage and costs. Siemens "revenue grade" meters offer the capability to record kWh/kW energy and demand data, along with additional energy data. Use Siemens power meters for high accuracy applications, including submetering applications.
HVAC Brain is pleased to add Siemens power meters to their comprehensive online selection of products manufactured by Siemens HVAC Brain also offers Siemens automation components, control valves, damper and valve actuators and assemblies, and thermostats. This range of Siemens solutions provide HVAC professionals and facility managers with a number of reliable, quality choices for use in various applications.
To view HVAC Brain's online selection of Siemens power meters, please visit
http://www.hvacbrain.com/Siemens-Power-Meters-s/5122.htm
.
Why shop at HVACbrain.com:
HVAC Brain, Inc. is a fast growing retailer of HVAC/R equipment and replacement parts. At HVACbrain.com, HVAC professionals and maintenance managers can find a wide variety of 'hand-picked' high quality HVAC products such as air conditioning units, actuators and valves, compressors, motors, and coils. With HVAC Brain's tight vendor relationships, customers can choose and order products without worrying about the quality of products HVAC Brain offers.
Contact Info: HVAC Brain, Inc. 9545 Midwest Avenue, Unit A - Cleveland, Ohio 44125, 216-663-4822,
info@hvacbrain.com
.