First Responders Bibles Donated to Baltimore Police Department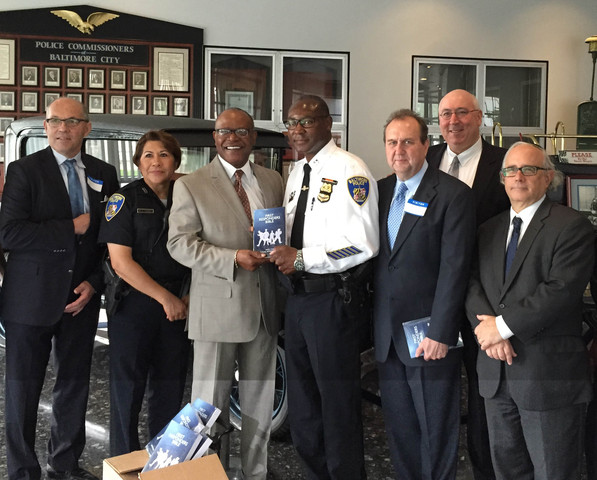 May 21, 2015 - Nationally Syndicated Radio Host Mike Gallagher had the Executive Director of his Charitable Foundation, Joey Hudson, travel to Baltimore this week to deliver First Responders Bibles that his foundation freely distributes around the nation. The Gallagher's Army Fallen Officer Fund presented 1000 First Responders Bibles to the Baltimore Police Department at a meeting with a group of local pastors and police officers.
Hudson and the Reverend Al Hathaway, Pastor of Union Baptist Church in Baltimore, delivered the Bibles to police headquarters along with Richard Glickstein, President of the National Bible Association. Joey Hudson said, "we want the men and women of the Baltimore Police Department to know there are people around the nation praying for their safety and hope they can rely on their faith and God's word during these difficult times."
The First Responders Bible includes a "spiritual fitness manual" as well as counseling and spiritual tips on how to stay strong and faith-filled when faced with catastrophic life-or-death situations. The Bibles are free to any agency who requests them and over 12,000 have been donated since Gallagher's Army first published them in 2013.
Gallagher says, "These police officers , firefighters and EMT's face horrific things while performing their day-to-day duties. We hope this Bible will offer these heroes comfort in their personal and spiritual lives."
The Gallagher's Army Fallen Officer Fund offers financial assistance to the families of law enforcement who are killed in the line of duty. To-date, the fund has assisted over 400 families and distributed $1.4 million dollars in financial assistance to these grieving families.
The Mike Gallagher Show is heard Monday-Friday from 9-12noon EST and is syndicated by the Salem Radio Network, a division of the Salem Media Group.
Email The Mike Gallagher Show Charitable Foundation