Spill Cleanup Under Way for Large Santa Barbara Oil Spill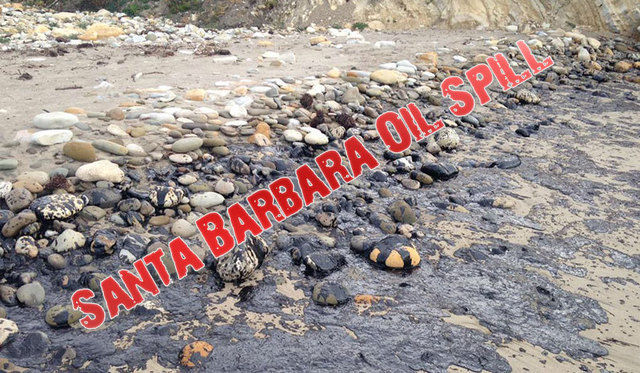 May 22, 2015, Santa Barbara CA:
A massive oil spill cleanup effort is underway after an oil pipeline ruptured on Tuesday near
Refugio State Beach
on the the Santa Barbara County Coast. It is estimated that 2,500 barrels worth of oil (105,000 gallons) spewed into the ocean, and spread 9 miles west of the Refugio State Beach toward El Capitan State Beach, according to the L.A. Times.
Refugio State Beach is about 20 miles west of downtown Santa Barbara. It's a popular beach for camping and swimming and used frequently by Santa Barbara residents and tourists. Coast Guard crews, with the help of emergency officials and state park officials are working on cleaning up the spill. So far, about 850 barrels of crude oil have been removed from the waters.
State Sen. Hannah-Beth Jackson, D-Santa Barbara, released the following statement Wednesday on the oil spill off of Refugio State Beach in Santa Barbara County:
"Like so many of my constituents, I remain very concerned about the impact of the oil spill yesterday at Refugio Beach, the largest we have had in years in Santa Barbara County, and am continuing to monitor it closely. This is a tragic reminder of how precious our coastline and wildlife are, and the dangerous and detrimental impacts of oil drilling and oil operations. Just as the 1969 oil spill off the Santa Barbara coast spurred decades of environmental progress, I hope that this devastating situation renews our commitment to protect our coastline, and find safer forms of energy to power our state and our nation."
EPA investigators haven't determined a cause for the spill, federal on scene incident commander Michelle Rogow said. They are working with the Pipeline and Hazardous Materials Safety Administration, which regulates the pipeline.
The Santa Barbara County District Attorney announced today that they would be investigating the spill to review "potentially relevant criminal and civil statutes," CBS Los Angeles reports.
Brett Connors, a 35-year-old producer from Santa Monica, told the Times that he saw sea lions swimming in the oil-laden waters. "It is horrible," he said. "You want to jump in there and save them."
There was another oil spill back in 1969 along the same area caused by Union Oil (which later became Unocal), the Times reports. The massive spill spewed out an estimated 3 million gallons of oil, spreading to 35 miles along the coast, killing marine life and birds.
Plains All-American Pipeline issued a statement yesterday: "Plains deeply regrets this release has occurred and is making every effort to limit its environmental impact. Our focus remains on ensuring the safety of all involved. No injuries have been reported at this time."
"Before dawn, we delivered a full truckload of Monarch Green high capacity
spill clean up materials
to the spill site for immediate use in the clean up efforts," said Tom Rossi, CEO of Monarch Green, Inc.
Cleanup and recovery from an oil spill is difficult and depends upon many factors, including the type of oil spilled, the temperature of the water (affecting evaporation and biodegradation), and the types of shorelines and beaches involved. Spills may take weeks, months or even years to clean up. It is often necessary to remove contaminated earth as a final step in oil spill cleanup. Oil spills can have disastrous consequences for society; both economically, environmentally, and socially.
About Monarch Green
: Monarch Green answers the world's demand for environmentally-friendly, technologically-advanced, cost-effective
emergency spill kits
and
absorbent mats
. Its spill kits and oil absorbent pads can be utilized to contain and clean up a brake fluid leak, fuel spill, engine oil leaks, gasoline spill, diesel spill, or
RV leaks
. Visit the website at
http://MonarchGreen.com
to become a distributor. "Like" the
Facebook page
for information on spill containment solutions. Call 1-877-500-SPILL (7745) Ext. 1 to find an authorized distributor.
Email Monarch Green, Inc.