Peacock Data introduces phonetics in new pdSurname software offering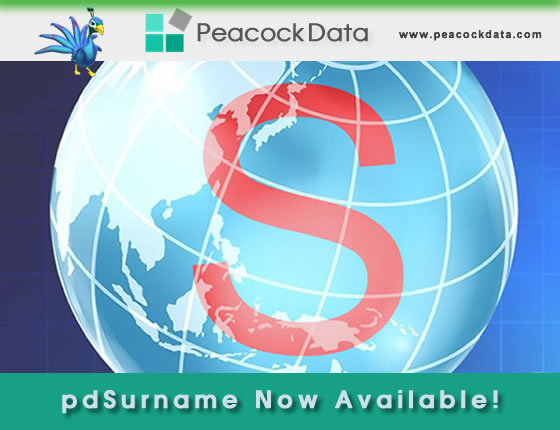 May 26, 2015 - Ever since Peacock Data released their
pdSurname last name software package
, in early March, it has proven to be the firm's fastest starting new-product launch. Barbara Adair, a spokesperson for the west coast-based company, sat down for an interview about the new-fangled phonetic features of the ground-breaking software. Often names are entered incorrectly in database lists, leading to duplications and information being in too many places, and the pdSurname product helps businesses and organizations fix this problem.
Accordion to Barbara Adair, who has also been Peacock Data's chief development coordination since 2012,
"One of the new features added to pdSurname allows it to identify last names that are phonetically alike, meaning they sound or are spelled similarly, regardless of their historic relation. Our other name software, such as
pdNickname
, has long identified nicknames and true name tree variations, but the surname package is the first to include identification of phonetic resemblance. But this feature will be added to the other software products in the near future."
Here are some examples of phonetically similar last names:
Correy, Curie
Goller, Gowler
Johnson, Johonson
Santilla, Santolla
Yarmin, Yarman
"The phonetic algorithms we utilize were built in-house by our team over the last three years,"
the company spokesperson said.
"They take into account differences in languages and dialects and are the most advanced ever developed for this purpose."
She added, "The software also scores the amount of phonetic similarity between pairs of last names, on a 1 to 99 scale, providing users an ordered output with the most likely names on top and least likely on the bottom. This is a major advantage of our system."
In addition to Peacock Data's advanced proprietary phonetic technology, the pdSurname software additionally identifies phonetic matches from the following six open source algorithms:
Caverphone
Soundex
Daitch–Mokotoff Soundex
Metaphone
Double Metaphone
New York State Identification and Intelligence System (NYSIIS)
Barbara Adair concluded,
"The new database package is a one-of-a-kind proprietary resource letting users complete projects with significantly more success and in ways that were not possible before. It is a very innovative piece of software."
PDSURNAME SPECIFICATIONS
The Peacock Data software comes in
Standard
and
Pro
editions. Both include the same names and features except the
Pro
version comes equipped with fuzzy logic. Fuzzy logic allows matching when lists have misspellings or other typographical errors. The
Standard
edition has everything except fuzzy logic.
Total name records:
Pro: 109,932,801; Standard: 81,079,801
Zipped size:
Pro: 1.2 GB; Standard: 962 MB
Extracted size:
Pro: 22.9 GB; Standard: 16.8 GB
Introductory Price:
Pro: $371.25; Standard: $224.25
The package also features precision documentation, complete with examples, and a perpetual multi-seat site license allowing installation on all computers in the same building within a single company or organization.
MORE ABOUT PDSURNAME >>
pdSurname is also part of the company's
pdSuite Names
(now on sale, $645) and
pdSuite Master Collection
(now on sale, $795) software bundles.
About Peacock Data
California-based Peacock Data are the makers of database software products used by business, organizations, churches, schools, researchers, and government. They are an industry leader because of their superior solutions and renowned loyalty to customers.
For more than 20 years Peacock Data's specialized software has been utilized in applications you use every day.
MORE ABOUT PEACOCK DATA >>
Attachments