St. Helena CPA firm certifies entire team in Strategic Performance Management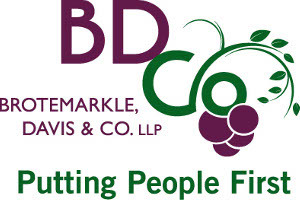 May 30, 2015 - For 16 members of the Brotemarkle, Davis & Co. LLP (BDCo) team, last week marked the completion of a year long training program in strategic performance management. BDCo has been delivering specialized training and consulting services to wineries in the Napa Valley for more than 13 years, and these new certifications allow them to expand their reach. The program, which covered facilitation training, communication and behavioral styles, metrics, and business insights, was taught by Mentor Plus, the leading training and coaching organization for accounting professionals. The Mentor Plus® Certification in Strategic Performance Management (CSPM) designation is granted to fewer than one hundred CPAs in the United States each year.
New CSPM certifications were awarded to: Guy W. Carl, CPA, Chris Meineke, CPA, Patricia Walker, CPA, Noura Antar, CPA, Nathan Anulo, CPA, Michael Cardozo, CPA, Janice Conte, Terry Hollenstain, CPA, Jennifer Labarcon, Ina Larot, Jesse Mackey, CPA, Jan Massoletti, Erica Riddle, Janina Thomas, CPA. These newly certified individuals join the firm's existing CSPM certificate holders Craig Underhill, CPA and Geni Whitehouse, CPA.
Craig Underhill, CEO and "Emperor of Enlightenment" at BDCo has been applying these skills for more than 13 years to wineries in the Napa Valley. Last year, he made the decision to officially expand the firm's expertise to all employees, including the firm's concierge and firm administrator. Craig made the investment because "these services make a difference for owners and employees of wineries throughout the Napa Valley while also changing the game for everyone on our team. There is no greater reward than watching owners and employees find the connection between individual actions and business success."
Edi Osborne, instructor and CEO of Mentor Plus added "The CSPM certification provides a higher standard of education and service delivery that separates individuals who have demonstrated an ongoing commitment of time and firm resources from those who have only a casual understanding of performance measurement. It's the difference between working with a general practitioner and having access to the expertise of a specialist in the discipline. BDCo is the only CPA firm in the country with over 90% of their team members who have achieved the CSPM designation. This speaks volumes about their commitment to helping their clients be more successful." Client demand has been the driving force behind the certification. Increasingly, business owners are looking for an advisor who can help them make better business decisions and manage the performance of their company-not just prepare financial statements and tax returns.
About BDCo
Brotemarkle, Davis & Co. (BDCo) offers a broad range of accounting and financial services to companies in the wine and hospitality industries. Yes, we'll do your taxes, but we're a different kind of accounting and advisory firm. We believe customers have the best answers and employees have the best ideas to help make innovative changes that boost your bottom line. What do you believe?
www.bdcocpa.com
About Mentor Plus
For over 20 years Mentor Plus has been focused on improving the business acumen and advisory skills of accounting professionals. Mentor Plus delivers hands on training and certification that moves accountants from offering Level 1 compliance services to Level 5 advisory services. Thanks to their efforts, accountants are having a more positive impact on the success of countless businesses all over North America. For more information, contact Edi Osborne at
www.mentorplus.com
or call (831)-659-7587.