DoubleTree Ocean Point Resort & Spa Finds That Half of All Americans Have Stayed at a Resort Hotel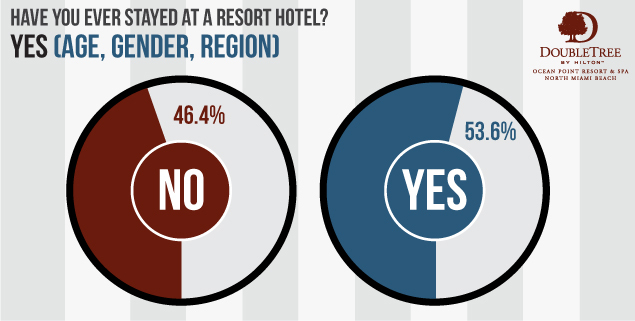 May 30, 2015 - A recent survey conducted by Miami Beach's DoubleTree Ocean Point Resort & Spa has discovered that nearly half of all Americans have stayed in a resort hotel, potentially marking a new trend in the travel industry.
As the summer sun continues to shine bright and warm the air around us, many Americans are looking forward to their summer vacation. One of the first challenges in planning a vacation is choosing where to stay, a luxury resort or a standard hotel.
As travelers continue to look for hotels that set themselves apart from the ordinary, resort popularity is on the rise due in part to their unique amenities and luxury accommodations that provide the setting for a one-of-a-kind vacation opportunity.
No matter if you fall in Generation X or Generation Z, resort hotels provide the ultimate in luxury, style, relaxation and activities a plenty to help you make the most out of your vacation. In fact, the survey from the DoubleTree Ocean Point Resort & Spa discovered that over half of Americans between the ages of 25 – 34 and retirees alike have all experienced the resort advantage for themselves.
Along with their rise in popularity, resorts in Miami Beach and all across the country are slashing prices so even the most budget strict families can take advantage of all that a resort hotel has to offer. If you're looking to plan a summertime vacation, take advantage of the special discount rates, vacation packages and exclusive offers that can help you cut costs without sacrificing fun.
Unlike their standard hotel counterparts, resort hotels cater to the guest quite like no other. Whether you're looking for more opportunities to relax or seek the thrill of added adventures, resort hotels offer a variety of on-site amenities and attractions that can help you plan the ultimate summer getaway.
Explore the results of the survey a bit further by visiting the DoubleTree Ocean Point Resort & Spa's blog post at
http://www.oceanpointresort.com/nearly-half-americans-stayed-resort-hotel/
.
Start planning your own vacation of a lifetime with help from the luxury accommodations from the DoubleTree Ocean Point Resort & Spa. Featuring its own private white sand beach, luxury day spa and so much more, the Ocean Point Resort & Spa is the premier resort hotel in Miami. Get started planning your summer vacation by visiting
www.oceanpointresort.com
.
Email DoubleTree Ocean Point Resort & Spa