Allied Hires Richard McElhaney to Head New In-House Safety & Risk Management Department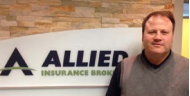 May 30, 2015 - Allied Insurance Brokers is excited to announce the hiring of Richard McElhaney G.S.P. as Assistant Vice President – Safety & Risk Management.
As head of Allied's newly formed in-house Safety & Risk Management department, Mr. McElhaney is charged with optimizing, promoting and delivering Allied's Solutions Driven services℠. More than just insurance, these services are aimed at protecting the people, environment and property of Allied's niche clients, while keeping them current with all state and federal regulations through proactive safety practices and innovative tools.
Mr. McElhaney's safety management experience dates back to 1992 as a Site Safety Manger on several large scale construction projects across the country. Mr. McElhaney then became the Safety & Risk Management Director for companies such as Taggart Global LLC, Chester Engineers and Fenner Dunlop Americas until 2014 when he became a Senior Safety Consultant for Wells Service Group. Throughout his career, Mr. McElhaney has garnished many awards and accomplishments such as the AGC Safety Excellence award and the PA Governor's Safety Excellence award. Mr. McElhaney has a B.S. in Occupational Safety & Health Management from Slippery Rock University and a M.S. in Safety Management from West Virginia University.
About Allied:
Allied is a Solutions Driven℠ organization. Founded in 1982, Allied is a nationwide property & casualty insurance broker focused exclusively on serving the Crane, Rental Equipment and Party Goods, Concrete Pumping, Scaffold, Wood Products, and Non-profit & Health and Human Services industries. That focus creates a wealth of benefits for our clients as we deliver on our year-round commitment to reduce your total insurance cost and help you create a stronger, safer business overall. Our philosophy is that coverage is the start, not end, of our work as your business partner. It's all part of our Solutions Driven focus. Visit
www.alliedinsbrokers.com
to learn more.
Email Allied Insurance Brokers