Maximize Your Summer Fun with a Great Surprise from Audio4fun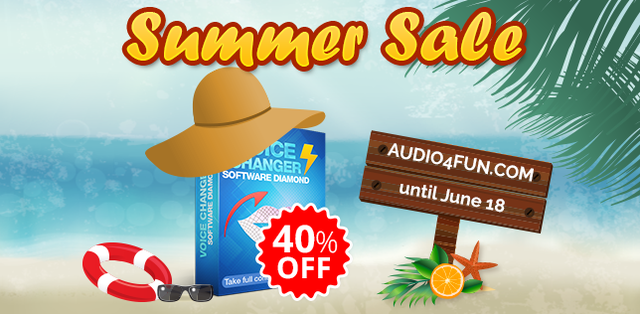 June 6, 2015 - Summer is almost upon us, and that means we now can get dump those hectic schedules, crazy textbooks, and heavy schoolwork. Everybody is busy planning for summer activities, and that is why Audio4fun is offering 40% OFF their amazing voice changer software to help people rock out this summer. More information can be found at
http://www.audio4fun.com/promotion.htm
"Everyone is excited about summer activities, and so are we," said Peter Nguyen, COO of Audio4fun, "Therefore, we would like to add more value to maximize their fun by offering 40% OFF on our versatile voice changer. Using this tool, users can create unique conversations with their friends, make PC to PC phone calls, or simply record their voices, and remix them in their own, creative ways."
AV Voice Changer Software Diamond
is suitable for overdubbing films, doing impressions of others, and most all other voice-related tasks and supports all of this in a high-quality sound environment. By owning this program, users will have a wide variety of entertainment options during summer. To grab this program at 40% OFF, all readers can visit
http://www.audio4fun.com/promotion.htm
. This attractive offer is only valid until June 18th, 2015.
"We believe that our professional voice changer program will turn your PC into a home entertainment center that allows you to rock out this summer creatively. Join us now and be the first one to bring surprises to your friends and family" Mr. Nguyen also added.