Mister Sewer Helps Homeowners Prevent Sewer Odors & Smells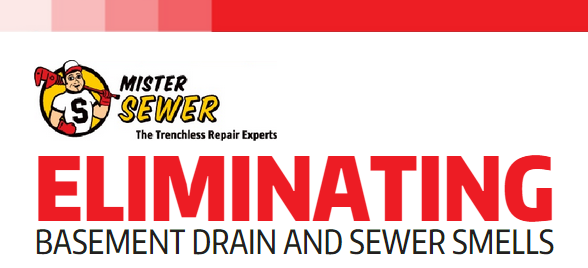 June 6, 2015 - Don't let you home fall victim to foul sewer odors and smells from the basement drain. Keep your home smelling as fresh as can be with help from the sewer experts at Mister Sewer.
Unpleasant smells emitting from your basement drain and sewer line can be alarming, but having a little bit of knowledge on your side can help you pinpoint the source of the smell and prevent the odor from spreading throughout the home.
Dried-out water traps are one of the most common causes of basement odors in the home. When a water trap goes unused for a while it will evaporate and become dry, emitting a foul-smelling gas to escape from the fixture and slowly leak throughout the home. This is a relatively simple fix, however, and the sewer experts at Mister Sewer suggest pouring a few quarts of water into the offending drain as well as a tablespoon of vegetable oil to help prevent the drain from drying up once more.
Overtime, rooftop plumbing vents can become blocked with frost, leaves, twigs or any number of things to prevent it from doing its job. In this case, it's best to call in a professional plumbing service to help you determine if a rooftop vent is blocked and to help remedy the issue.
If you sense the smell is coming from beneath the floor of your basement, it may be a sign of a drain line leak. Call in a Pittsburgh sewer repair professional to inspect your drain. Professional plumbers will be able to use sewer video inspection technology to help find the source of the problem and come up with an effective solution to eliminate the smell in your home.
Another common cause of sewer smells in the home is a broken toilet wax ring seal. Situated between the toilet base and flange, a broken seal can allow sewer smells to seep through and linger throughout the home. If you notice your toilet slightly rocks back and forth, it may be time to replace the wax ring seal.
No matter where the smell is coming from in your home, it is always a good idea to get in touch with a Pittsburgh sewer repair professional to help you pinpoint the cause and diagnose the issue. Learn more about some of the more common causes of these foul odors by visiting
http://mistersewer.com/company/eliminating-basement-drain-sewer-smells-white-paper/
.
Keep all the pipes in your home running as smooth as can be with help from the professional Pittsburgh plumbers at Mister Sewer. With over 25 years of experience on their side, the team at Mister Sewer has built a reputation for exceptional quality care and service for homeowners in Brentwood, Baldwin and all through the Pittsburgh area. Discover what Mister Sewer can do for you by visiting
mistersewer.com
.