Improve Your Construction Site Efficiency with Help from Mr. John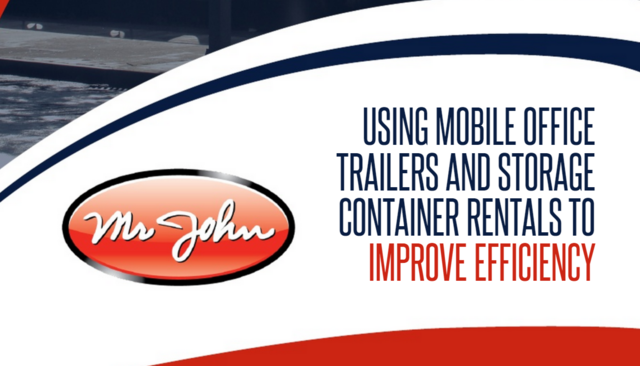 June 6, 2015 - Construction site management can quickly turn into a headache inducing hassle. Don't let you site's productivity fall behind due to poor design and give efficiency a boost with help from the team at Mr. John.
Since 1964, Mr. John has been supplying contractors, site operators and project managers with the tools they need to keep their worksite running as smoothly as possible. The team at Mr. John understands that time on the worksite is your most valuable asset. Streamline your construction site with the mobile office trailers and portable storage container rentals from Mr. John.
Having mobile office trailers on site make managing your project easier than ever before, allowing you to oversee your team at all times without having to run back and forth to the main office. Mobile office trailers come with everything you need to make quick decisions and communicate with all the members of your team to help improve worker satisfaction as well as worksite efficiency.
Office trailers come in all types of sizes and varying floor plans, allowing you to choose the best one to accommodate all of your construction site's needs. In addition, many mobile office trailer rentals come fully equipped with standard furniture, air conditioning, and separate offices allowing you to make the most out of your investment.
When space and storage are the root of your problems on the job, Mr. John suggests using mobile storage containers to cut back on the clutter and keep your equipment safe and secure. Nearly all construction sites use some type of heavy equipment or machinery, leaving little wiggle room when it comes to keeping them out of the way.
Mobile storage containers not only help you keep heavy equipment out of the way to clear up some space on the worksite, but they also safely protect your equipment from damage, theft and the outdoor elements. Furthermore, storage container rentals can be used to help save labor time by reducing the amount of trips to transport equipment back and forth to the worksite.
Don't let the common obstacles of construction site design hold your project back. Check out how mobile office trailers and storage container rentals can be used to improve efficiency throughout the project by visiting
http://mrjohnpit.com/using-mobile-office-trailers-storage-container-rentals-improve-efficiency/
.
When productivity, efficiency and quality counts for your project, get in touch with the team at Mr. John to help streamline your work zone and improve its efficiency. Carrying the largest fleet of portable toilets, mobile office trailers and portable storage containers in Western Pennsylvania, Mr. John is your one-stop shop for all your construction site needs. Get started planning your site today by visiting
http://mrjohnpit.com/