G6 Sports Discovers New Trends in Sports Supplements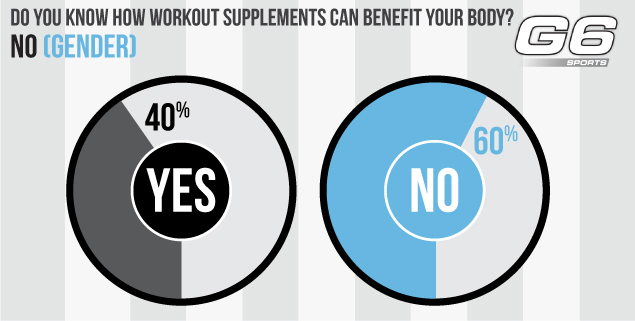 June 6, 2015 - In a recent survey of nearly 1,000 Americans from across the country, the team of sports nutritionist has learned that over half of the country is unaware of how sports supplements can be used to improve muscle growth, recovery, repair and boost performance.
All throughout the world of competitive sports, athletes use sports nutrition supplements to help give their performance an extra edge. Using these sports supplements at just the right time can help drastically boost your energy, focus and help you combat fatigue.
While a little over half of the country may still be in the dark when it comes to the world of sports nutrition, all signs point to a change coming along for future generations. According to the survey, nearly half of the two youngest age demographics surveyed stated they were aware of how sports supplements could be used to benefit their body.
As the knowledge of sports nutrition continues to grow, workout supplements are expected to only expand is usage to help athletes of all ages, sizes and skill levels reach their body's peak potential. When incorporated into a healthy meal plan and a strict training regimen, workout supplements can help athletes get a quick boost to their performance and develop strong, lean muscle.
One of the most common obstacles people face when choosing what sports supplements to use is the confusion about what works and what doesn't. Most vitamin shops and supplement stores carry hundreds of different brands all advertising lightning quick results, but each with their own unique formula.
When shopping around for sports supplements, one of the most important things you can do before purchasing is reading the label. While many of the most popular brands attempt to lure customers in with empty promises and false claims on the front, the real truth on how effective the supplement will be is located on the back of the label. Being able to separate the facts of the nutritional information from the fictitious claims elsewhere on the label can ensure your product will help you achieve your fitness goals.
For a more in-depth look at the results of the survey, and for more information about how sports supplements can be used to enhance your performance, please visit
http://www.g6sportsnutrition.com/60-of-americans-are-still-unaware-of-the-power-behind-sports-nutrition-supplements/
.
No matter what your fitness goals may be, the line of power-packed sports nutrition supplements from G6 Sports can help you unlock your body's true potential and boost performance all throughout the day. Discover how G6 Sports can keep you at the top of your game by visiting
www.g6sportsnutrition.com
.