Shop Insurance Canada Now Offering Overland Water Protection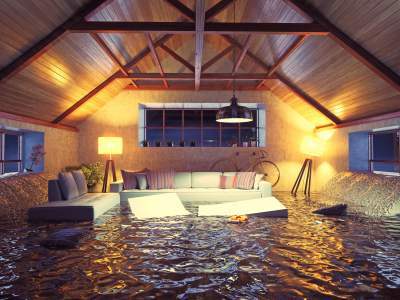 June 10, 2015 - ShopInsuranceCanada.ca is proud to offer Aviva Canada's new, first-of-its-kind overland water insurance in Canada. This coverage is part of a new, three-pronged approach to insuring homes for water damage: base coverage for things like broken pipes, and extended coverage endorsements for sewer backup and now overland water.
Flooding has caused the greatest aggregate amount of property damage in Canada, according to the Institute for Catastrophic Loss Reduction (ICLR). With approximately 20 per cent of the world's fresh water located in Canada, floods are also the most frequent Canadian natural disaster, averaging almost one natural disaster-level flood per year from 1980-2010. Major floods represent 40 per cent all natural disasters ever recorded in the country.
Canada is experiencing 20 times the storms and floods it had just 20 years ago, and severe weather events that used to happen every 40 years can now be expected to happen every six years, according to Environment Canada. The Alberta floods of 2013 caused four confirmed fatalities and damages exceeding $5 billion. Thirty-two towns and cities declared states-of-emergency, displacing over 100,000 people throughout the region. For insurance companies, this was the costliest disaster in Canadian history, costing them $1.7 billion in losses, according to the Insurance Bureau of Canada (IBC).
The most costly disaster in Ontario's history came in the same year: the Greater Toronto Area floods of 2013 cost insurance companies an estimated $850 million, according to a preliminary estimate from the IBC.
And it's only getting worse: since the 1950s, the average yearly rainfall in Canada has increased 12 per cent-that's an average of twenty more days of rain per year.
Until now, Canadian insurers have not addressed this increasing risk. There hasn't been an option for Canadian homeowners to protect themselves from the risk of flood. While extended coverage has existed for things like sewer backup, there's been a huge gap in addressing the risk of overland water.
Aviva Canada is the first insurer to step forward and address this increasing problem, and Shop Insurance Canada is pleased to be a broker partner offering such a service.
"We're proud to be the first insurer to offer overland water protection through our
home insurance
policies," said Aviva Canada president Sharon Ludlow. "We will continue to collaborate with our industry partners such as the Insurance Bureau of Canada, the Institute for Catastrophic Loss Reduction and governments at all levels, as well as representatives of our broker network."
The only types of flooding that will continue to be excluded are those resulting from tidal waves, tsunamis, or hurricanes.
Callum Micucci is a Canadian journalist and communications professional at ShopInsuranceCanada.ca, Canada's authoritative voice for
car insurance news
, information, and rates. Compare quotes from up to 15 different car insurance companies in minutes. Start saving today!
Email Shop Insurance Canada