Academic and Corporate Leaders Partner for Business Ethics Education at Leeds School of Business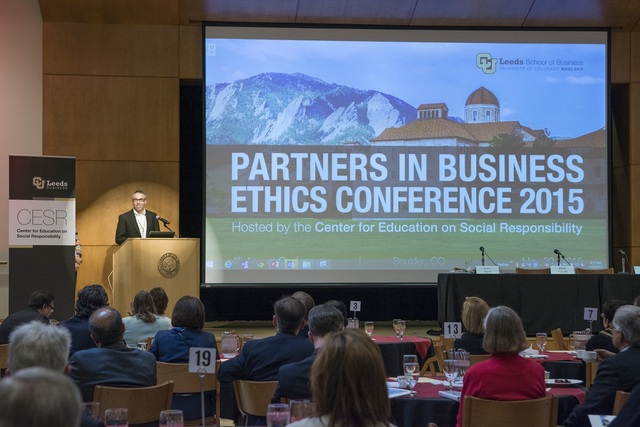 June 10, 2015 - One hundred deans, academics and corporate leaders from around the world packed the Glen Miller Ballroom at the University of Colorado Boulder on May 20 to address questions on how to better equip business students for the ethical challenges of a global marketplace.
The 4th Annual Partners in Business Ethics (PBE) Conference brought together institutions including Babson, Cass, the Copenhagen Business School, Darden, the Hong Kong University of Science and Technology (HKUST), the European School of Management and Technology, Goizueta, Mendoza and Tuck with companies like CH2M Hill, E&Y, Hain Celestial, Royal Dutch Shell and Walmart.
The goal was to answer three questions:
How can academic and corporate leaders partner to develop the next generation of values-driven business leaders?
What is the most appropriate method for 'teaching' ethics to business students?
How can corporations maintain continuity in the transition from business school to ethics in the workplace?
According to a 2012
study
by the Ethics Resource Center, the "National Business Ethics Survey of Fortune 500 Employees," 60 percent of Fortune 500 companies operate comprehensive ethics and compliance programs because they understand that employees who break the rules hurt morale, reduce efficiency and profitability and expose the company to legal liability.
The conference was highly interactive, reflecting state-of-the-art teaching techniques used by the Center for Education on Social Responsibility (CESR) at the Leeds School of Business, and relied heavily on attendee participation and spirited discourse.
Featured speakers discussed their views on the importance of
business ethics
education, including Jonas Haertle, United Nations head secretariat of Principles for Responsible Management Education (PRME). Fitting for such an international assembly, the United Nations endorsed and participated in the conference.
In his keynote address, Colorado's Lieutenant Governor Joseph Garcia delivered a powerful message about the importance of diversity.
"If we are truly to be effective as teachers on the importance of diversity, we must first be diligent as academic administrators in insuring diversity in the classroom and among staff, faculty and the administration," said Garcia during his address.
Dr. Xiang Bing, the founding dean and professor of China Business and Globalization at Cheung Kong Graduate School of Business (CKGSB), travelled from China in order to attend the conference. In his keynote address, Dean Xiang spoke about China's "collective myopia," calling for enhanced focus on ethics, social responsibility and sustainability to combat "short-termism."
About PBE
The fourth annual
PBE conference
provides one of the only opportunities available for corporate leaders to play a critical role in discussing and refining the business ethics education provided at top schools around the world. It breaks new ground for collaboration between business and academic leaders on curriculum development and delivery of ethics education in both academic and workplace settings.
About CESR
Founded in 2007, the
Center for Education on Social Responsibility (CESR)
advances the Leeds School's commitment to preparing future leaders to confront social, environmental, economic and ethical challenges faced by modern business.
CESR infuses values exploration throughout the required curriculum at the undergraduate and MBA levels, and offers cutting-edge electives and social responsibility classes for further ethical development. CESR's faculty deliver courses that challenge students to develop critical ethical inquiry and evaluate business practices along environmental, social and ethical dimensions.
Email Center for Education on Social Responsibility (CESR)