Picker Components Announces High Amperage Relay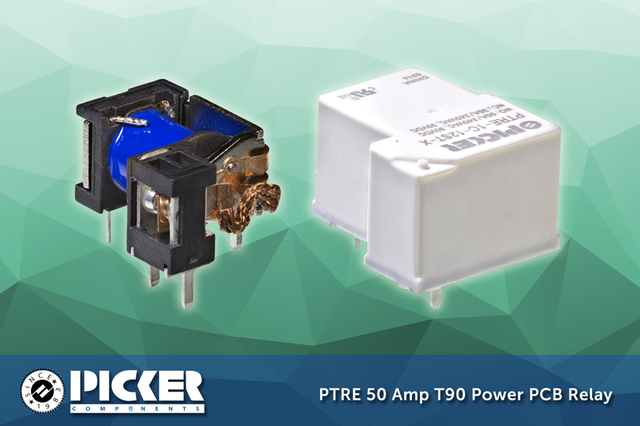 June 12, 2015 - Picker Components, a quality leader in design and manufacturing of electro-mechanical and solid state relays, today announced the release of its 50 Amp T90 Power PCB Relay. Known as the PTRE, the 50 Amp Power Relay is ideal for a broad range of applications where high current PCB performance is required in applications like motor, blower and heating controls. Picker Components' customers demand strict performance characteristics and Picker meets the challenge through its advanced design and automated manufacturing processes. All Picker relays must pass stringent controls for superior materials and design excellence in order to achieve lower internal resistance, less heat and higher reliability.
Jim Kasle, General Manager for Picker Components, comments, "Our PTRE 50-Amp PCB Relay packs a lot of punch in a small package. We added a braided copper wire to carry the current along the armature from the common pin to the common contact. This effectively dissipates heat away from the contacts, which improves reliability."
The PTRE with a 50 Amp 240VAC UL Resistive Rating is optimal for high current applications. The PTRE design utilizes larger contacts and better heat dissipation to meet or exceed demanding OEM product performance requirements.
The PTRE offers the following key features:
Popular T90 Power PCB Relay Footprint
UL 50-Amp Continuous Current @ 240VAC, 30VCD
2 Horsepower at 250VAC Rating
UL Class F Insulation Standard
Available with UL508 and UL873 Spacing
Epoxy Sealed, Immersion Cleanable, Ventable
–55°C to +125°C Operating Temperature
Lead Free and RoHS Compliant
For detailed specifications on the PTRE 50 Amp T90 Power PCB Relay, visit
www.pickercomponents.com/pdf/Relays/PTRE-50-Amp-Power-PCB-UL-Relay.pdf
.
Pricing and Availability
Pricing for the PTRE 50A T90 is $1.95 to 2.35 ea. in quantities of 1,000 depending on coil voltage. For a complete list of representatives and distributors of Picker Components' products, visit
www.pickercomponents.com/distributor.php
.
About Picker Components
Founded in 1983, Picker Components manufactures and distributes a wide range of Automotive Relays, General Purpose, Power Relays, Signal Relays and Solid State Relays. Picker's product line spans from the tiniest fractional current rated Signal Relay to powerful 50 Amp Power Relays and 150 Amp Automotive Relays. Picker's superior quality contacts are alloyed in Japan under the most exacting requirements. Picker is the only major relay factory in China that does not use Chinese-made contacts. The actual formulation of Picker's contacts is highly proprietary. For more information, visit
www.pickercomponents.com
.
Email Picker Components Corp