International childhood disability leader recognized for transforming healthcare landscape for clients and families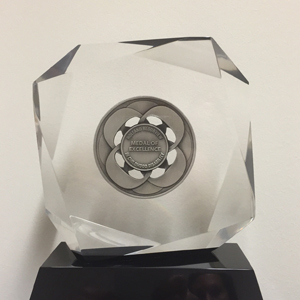 TORONTO, Ontario. (June 15, 2015)
- Holland Bloorview Kids Rehabilitation Hospital announces Dr. Peter Rosenbaum as the inaugural recipient of the Medal of Excellence in Childhood Disability. The Medal of Excellence celebrates outstanding achievement and global impacts made by a leading international expert, shining a light on the evolving field of childhood disability.
"I am both delighted and humbled to receive the inaugural Holland Bloorview Medal of Excellence in Childhood Disability. To me this award celebrates the often overlooked field of research in childhood disability," says Dr. Peter Rosenbaum. "Between CanChild at McMaster University and Holland Bloorview in Toronto, we are recognized around the world for the quality and relevance of our work, and the impact it is having on the lives of young people with disability and their families."
Dr. Rosenbaum, Co-Founder of CanChild Centre for Childhood Disability Research and his colleagues revolutionized the health model for cerebral palsy by contributing to the Gross Motor Function Classification System. Gross motor skills are the postural movements that a child makes with his whole body. Dr. Rosenbaum's progressive classification system defined gross motor function based on sitting, walking and wheeled mobility movements of children and youth with cerebral palsy (CP). Cited over 3,000 times in literature and used internationally to this day, the classification system has been used with countless numbers of children with CP and their families. Dr. Rosenbaum's success, expertise and achievements are recognized both nationally and internationally, including a Lifetime Achievement Award in 2014 from the American Academy for Cerebral Palsy and Developmental Medicine.
"I want to extend my sincerest congratulations to Dr. Rosenbaum, whose research at McMaster University is helping create a brighter future for children with disability, in Ontario and around the world. I'm proud that our government supports the ground-breaking work being done at organizations like Holland Bloorview, and I commend them on awarding the inaugural Medal of Excellence to a researcher who has contributed so much to this critical field throughout his career," states The Honourable Reza Moridi, Ontario Minister of Research and Innovation.
The Medal of Excellence recognizes outstanding global contributions that transform the system, advance care and accelerate knowledge in childhood disability.These qualities have been thoroughly demonstrated in Dr. Rosenbaum's work training developmental paediatricians throughout Canada and across the world, speaking at over 180 invited lectures in 25 countries and improving the quality of care for youth and families worldwide.
"Dr. Rosenbaum embodies the very spirit behind the Medal of Excellence, I am honoured to present him with our highest award and recognize the great impact he has made to the field of childhood disability and patient care," says Dr. Janet Morrison, Chair Holland Bloorview Board of Trustees.
As one of the first formally-trained developmental paediatricians in Canada and former Tier I Canada Research Chair in Childhood Disability, Mentoring and Dissemination, Dr. Rosenbaum has played an integral role as an educator, clinician, researcher, lecturer and innovator in the field of childhood disability.
"We are so fortunate to have an esteemed global leader in childhood disability who has helped shape a path forward in research, clinical practice and care, as our inaugural Medal of Excellence recipient, " says Julia Hanigsberg, Holland Bloorview President and CEO. "Dr. Rosenbaum truly has made a tremendous impact and shares Holland Bloorview's mission of bringing a world of possibility to kids with disability.
Holland Bloorview Kids Rehabilitation Hospital
Holland Bloorview Kids Rehabilitation Hospital is Canada's largest children's rehabilitation hospital dedicated to improving the lives of children with disability. As a fully affiliated hospital with the University of Toronto, we are home to the Bloorview Research Institute and the Teaching and Learning Institute, allowing us to conduct transformational research and train the next generation of experts in childhood disability.
Email Holland Bloorview Kids Rehabilitation Hospital