Tudi Helps Homeowners Keep Cool Without Breaking the Bank This Summer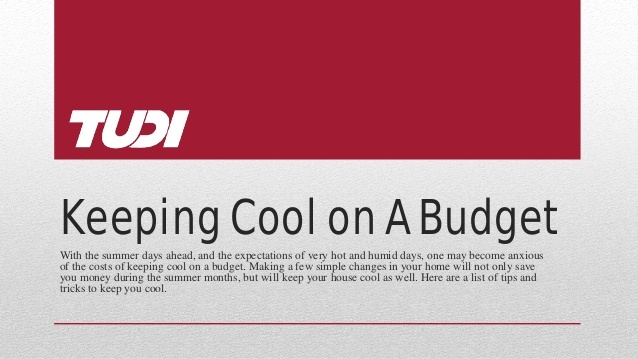 June 23, 2015 - As the temperature begins to rise, many homeowners are quick to turn on their home's air conditioning unit in search of some cooling relief. However, the costs of keeping cool can quickly add up if you're not careful. Make sure you keep your energy bill low this summer season with help from the Pittsburgh HVAC technicians at Tudi Mechanical Systems.
Keeping cool this summer doesn't have to come at such a high cost, and there are several things you can do around the home to help cut your energy usage down in half while still finding quick, cooling relief from the hot summer sun.
One suggestion the HVAC technicians at Tudi provide is to keep your thermostat set at a constant 78 degrees all season long. While most people turn their temperature down even further to 70 degrees, this may lead to almost double the energy costs, and you usually don't even notice a difference.
Another smart idea from the cooling pros at Tudi is to keep your windows and curtains closed during those hot summer days. The simple action of blocking out the sun can reduce your cooling costs up to 30%! When you are in the home, using a ceiling fan can help lower the temperature all throughout the home by up to 8 degrees and only uses the same amount of energy as a 100-watt light bulb. Before turning on the fan, make sure that the blades turn counterclockwise to push the cool air downward rather than drawing it up.
If you're looking for a more long-term solution to your home's cooling problem, investing in a thermostat controlled attic fan may be a wise choice. On the hottest of summer days, temperatures in your attic can skyrocket up to 150 degrees, so keeping it cool will help release hot air from the home for a more cooling effect all throughout.
Some simple maintenance, cleaning and care of your home's cooling unit may just be all you need to save money this summer season. Discover more ways that you can help cut your home's cooling cost by visiting
http://www.tudi.com/keeping-cool-on-a-budget-slideshow
.
If you're looking for some relief to the summertime heat, get in touch with the Pittsburgh HVAC Technicians at Tudi. At Tudi, we know what it takes to keep the indoors of your home cool and comfortable at a fraction of the cost. Discover how Tudi can help keep your home cool while cutting energy costs by visiting
www.tudi.com
.
Email Tudi Mechanical Systems