New Survey From Mr. John Finds Most Americans Reluctant to Use Porta Potties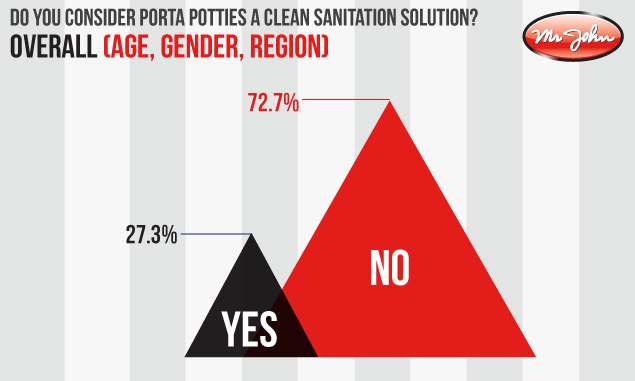 June 26, 2015 - For years, portable toilet rentals have been shrouded in misconceptions about their cleanliness. While most Americans still feel that porta potties are a less than sanitary solution to your bathroom needs, the team at Mr. John hopes to shed some light on just how clean these portable toilet rentals and trailers can be.
According to Mr. John's survey results, over 70% of Americans believe that porta potties do not represent a sanitary bathroom solution. However, several studies have proven time and time again that the portable toilet may be cleaner than most people think.
While public toilets are often regarded as one of the dirtiest things we encounter each day, several of the things we use in our day-to-day lives are far dirtier and carry more germs than most portable restrooms. In fact, you are more likely to pick up even more bacteria and germs from using your iPhone, sitting at your work desk, or browsing the web.
While we tend to focus a lot of our cleaning efforts on areas we feel are troublesome, many of us fail to pay the same amount of attention to the things we come in contact with most during the day. Another reason for the unreasonably high germ count behind our phones, tablets and other common items is our overall ignorance to proper hygiene.
No matter how clean or how dirty your surroundings, the best way to avoid the spread of harmful germs and bacteria is to thoroughly wash your hands on a routine basis throughout the day. According to the Clean Hands Coalition, regularly washing your hands with either antibacterial soap or an alcohol-based hand sanitizer is your best shot at reducing the amount of germs you pick up throughout the day.
Mr. John highlights that another reason why many customers seem to shy away from using a portable restroom is that they are skeptical of just what is included in today's toilet rentals. Many portable restroom suppliers carry a range of portable toilet rentals that come equipped with modern amenities that match the restroom in your own home for a more comfortable overall experience.
Put your fears of using the portable toilet to rest and discover for yourself just how clean a toilet rental may be by visiting
http://mrjohnpit.com/clean-porta-potties-survey/
.
No matter what your sanitation needs may be, the team at Mr. John offers a full range of products that are sure to keep you covered. At Mr. John, our toilet rentals feature some of the best sanitary and hygiene tools to help keep your portapotty as clean as can be. Learn more about what Mr. John can do for you by visiting
mrjohnpit.com
.