HazSim Helps Corporations Train Firefighters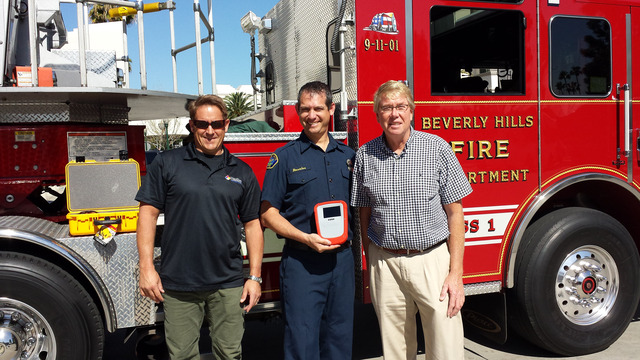 July 2, 2015 - Industries worldwide are showing marked improvements in creating or maintaining a "safety culture" as a means of reducing onsite occupational hazards. This concept has expanded to the community level, as corporations are reaching out and creating partnerships with Fire Departments in their communities to prepare for or offset the potential for large-scale disasters.
Companies that grant the funds for the purchase of HazSim® HazMat Training Simulation System to fire departments have found a meaningful way to contribute to the safety of the firefighters who serve their industrial communities. Transportation companies, chemical, rail, oil and gas facilities are taking steps to ensure their fire departments are outfitted with safest, most effective Hazardous Materials Simulation Training Devices on the market. They choose the HazSim®.
The HazSim® is a low-cost, hands-on HazMat training simulation system that is being utilized throughout the US. Since the company's launch in 2011, HazSim® has trained thousands of first responders at city and county fire departments, fire districts, training facilities, schools and industrial site response teams. Anywhere there is a hazardous materials response team, the HazSim® HazMat Training Simulation System has been applied.
Budget cuts are real. State, county and municipal fire departments are operating at minimums in many states throughout the U.S. due to consistent budget cuts. Training budgets are being slashed and the availability of federal and state grants to support them is decreasing yearly. Unfortunately, injuries and death of firefighters are on the rise. Fire Engineering Magazine reports that "10% of all line of duty deaths (LODD's) occurred during training."
The HazSim® HazMat Training Simulation System was created by a team of first responders who saw a safety gap in their hazmat training. They compared it to the other products on the market and made it more affordable, easier to use, drop-safe and engaging. Bonus features with the HazSim customizable system is the ability to use data during trainings in the classroom.
The HazSim System First Responder ® is a 6 gas training simulator that starts at only $4500. Applications for the First Responder are for the rural, volunteer or smaller agency. Larger agencies or training colleges prefer the HazSim Pro®. The Pro has a whopping 18 meters with a fully customizable interface. Pro systems are supported with our "Train the Trainer" program at an additional cost.
If you are a corporation that would like to participate in the HazSim® Grant to Firefighters Program, please contact Cheryl Cross at 310-303-9328 or email
Cheryl@hazsim.com
. Visit our website at
www.hazsim.com
Email HazSim - HazMat Simulation Training Device