Global Jet Capital Outlines the Benefits of Private Aircraft Leasing in New Slideshow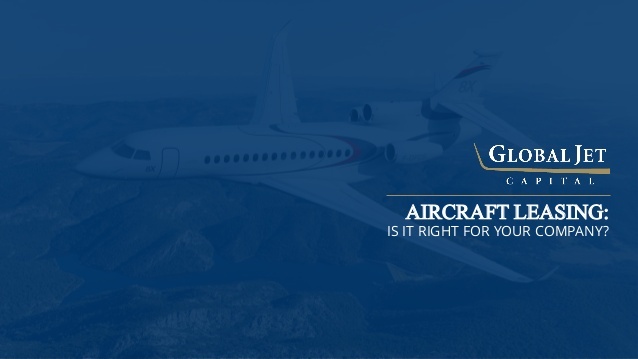 July 3, 2015 - There is no denying the many benefits of using a private business jet aircraft for your company's travel needs. While many business owners struggle with the large upfront cost associated with business jet financing, it is still possible to finance an aircraft without a hefty cost. Give your business a boost with private jet travel by turning to the aviation finance experts at Global Jet Capital.
Featuring a low upfront cost combined with all the benefits of private aircraft ownership, aviation leasing has become an increasingly popular option to help companies reach their destinations faster than ever before while building their bottom line. There are several different types of leases available, allowing you to choose the best one fit for your financial situation.
Operating leases, capital leases and traditional loans are the three most popular means of financing a business aircraft. Each one of these financing approaches features a unique set of terms, so be sure to contact the aviation financing experts at Global Jet Capital to determine which is right for your situation.
No matter which aircraft lease is right for you, one of the biggest benefits of private jet ownership through aircraft leasing is the increased flexibility. Under the terms of most operating lease agreements, the lessee has the ability to either extend the term of the lease at the end of the lease period or return the aircraft to the lessor. This ensures that you operate the right aircraft for your evolving mission and helps minimize risk of loss-of-value on the aircraft.
Another long-term benefit of aircraft leasing is derived through the optimization of the allocation of capital. Without having to pay a large, upfront cost for a private business jet, you can focus your company's capital on revenue producing assets, helping to build your business over time and improve the profitability of your business.
Having a private aircraft at your disposal any time of the day or night provides you unparalleled advantages to help keep your business moving ahead of the competition. Determine just what type of aircraft leasing option is right for your company by visiting
http://blog.globaljetcapital.com/aircraft-leasing-is-it-right-for-your-company-slideshow
.
For all your aviation finance needs, turn to the experts at Global Jet Capital. The Global Jet Capital management team has an expertise in financing and aircraft acquisition that can help guide you towards the right aviation financing decision to help you minimize cost and improve your bottom line. Learn more about what aviation financing options are available to you by visiting
http://www.globaljetcapital.com/index.html