CFA Advises Tomberlin Automotive Group, Inc. in Sale to Columbia ParCar Custom Carts, Inc.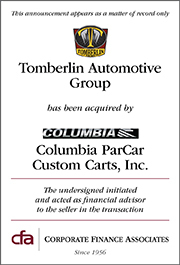 July 4, 2015 - Los Angeles, California - Corporate Finance Associates, an international investment banking services firm providing merger and acquisition, business valuation, capital resource and financing advisory services, announced that it was the advisor in the acquisition of Tomberlin Automotive Group, Inc. by Columbia ParCar Custom Carts, Inc.
Tomberlin, based in Augusta, Georgia, designs, manufactures and distributes advanced electric vehicles targeting neighborhood and close-in commuting use. Tomberlin is a recognized leader and manufacturer in the electrical vehicle market with distribution throughout the United States and approximately 30 countries generating over $70 million in sales since 2007. Tomberlin utilizes a community based distribution network throughout the USA, South America, Europe and Asia.
Columbia ParCar Custom Carts, Inc., headquartered in Reedsburg, Wisconsin, is a premier electric vehicle manufacturer whose history dates back to 1946. Columbia has one of the most expansive electric vehicle product line-ups in the world. Columbia produces electric vehicles for private use, commercial and industrial applications. Their products include models that seat up to 24 passengers, carry up to 6,000 pounds of payload, tow up to 16,000 pounds and travel up to 25 miles per hour.
"We're at the center of an exciting trend in a fast paced industry that this acquisition will capitalize on. Our teams are enthusiastic and while much work remains, the future is bright. Assets are being deployed to assure we have a professional and prudent roll out that meets the standards Columbia ParCar and the Nordic Group have delivered for decades. Our advisory group played a key role led by Marc Borrelli, Managing Director and Principal at Corporate Finance Associates", said Michael Tomberlin, President, Tomberlin Automotive Group, Inc.
About Corporate Finance Associates
Celebrating more than 56 years of service, Corporate Finance Associates is a major investment banking firm, with over 20 offices across North America, Canada, India and Mexico City and partner offices in Brazil, China and throughout Europe providing middle-market companies with a wide range of M&A advisory services and access to capital resources. From project inception to completion, a senior securities licensed and registered principal guides clients through every challenge, advocates on their behalf, and leverages CFA's experience and extensive resources. More information is available via the Internet at
www.cfaw.com
.
Email Corporate Finance Associates