Cedar Hill Dental Office Announces Launch of Its New Website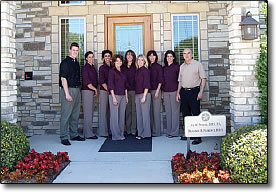 July 7, 2015 - Cedar Hill, TX - Dr. Brandon Florence, DDS is excited to announce that his dental practice has launched a brand-new website.
"We're all thrilled with our new site," Dr. Florence said. "There's now a lot more content on there. People can learn all about our treatments and what we offer and also find information about the practice and us personally."
That latter point is important, he stressed, because people want to know who they are going to see when they visit the dentist, as well as their experience.
"We've also made everything a lot more convenient," Dr. Florence said. "The forms new patients need to fill out are right on the site and they can fill them out, print them, and bring them to their appointment. It's a real time saver."
Existing patients also have the opportunity to make appointments through an online form.
"Basically, we wanted to make our website as informative as possible for our patients and also do things to make their lives a little easier," Dr. Florence added. "I think it accomplishes both."
About Lonestar Smile and Dr. Brandon Florence, DDS
Lonestar Smile offers a full line of general and cosmetic dentistry. The staff is dedicated to providing the highest quality dental care in a friendly and relaxed atmosphere. Dr. Brandon Florence graduated with a Bachelors of Science degree in biology from Dallas Baptist University in 1999 and then went on to Baylor College of Dentistry where he received his degree in dental science in 2004. Brandon also has post-graduate studies at Pankey Institute in temporo-mandibular joint function and dysfunction and in his free time, he supports community initiatives, such as Love Out Loud and a Nursing Home Ministry.
For more information about Lonestar Smile, please visit
lonestarsmile.com
.