Start Building Better Customer Relationships with Help from Plus Consulting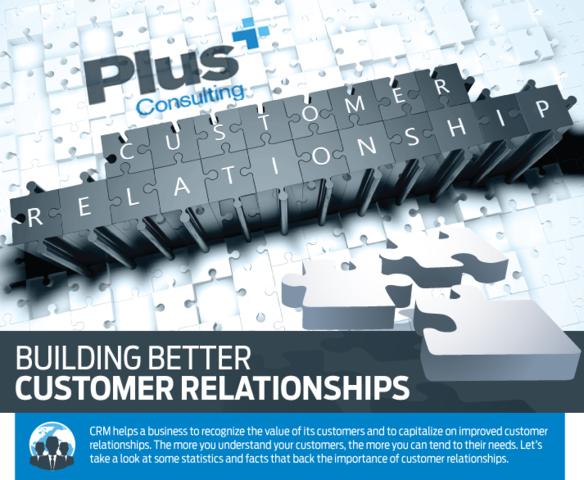 July 8, 2015 - In today's market, nothing proves to be more vital or more valuable to your business than the customer. Discover how to better shape, nurture and capitalize on these loyal customer relations with help from the experts in CRM at Plus Consulting.
While the customer has remained a dominant market force for years, new technology and today's 'on-demand' society only contribute to their value. In recent years, customer relationship management has transcended the idea of being just exceptional service in favor of a more 360-degree approach, understanding what it is your customers want and when they want it.
As customer demand continues to grow, it comes as no surprise that an increasing amount of organizations are turning to the latest CRM software solutions to help grow their brand. CRM software solutions add yet another tool to help push their business ahead of the competition. The proof is available, when employed and used correctly, CRM can increase sales by up to 29%.
Sales advantages are not the only area where your business stands to benefit from an effective CRM strategy. When you work on creating solid, quality relations with your existing customers, you'll begin to discover more insight into your customer's wants, needs, and desires to better cater your products and services. In time, your customers will spread the message of your brand for you to extend your brand's reach and grow your market.
The first step towards better customer relations is to choose the right software for your needs. There are several different platforms for CRM, so reach out to an IT strategy consulting professional to guide you towards the best solution for your organization.
Working alongside a CRM consulting professional, you'll be able to make the most out of your investment into your customer relationship management software through proper implementation, strategy, and continued support to keep your campaign on track.
Correctly implementing CRM strategy to your brand is a great way to build your business and extend your market. Discover some of the opportunities presented through effective CRM software solutions by visiting
http://www.plusconsulting.com/Blogs/Lists/Posts/Post.aspx?ID=67
.
Ensure yourself effective CRM implementation, strategy and management with help from the CRM consulting services from Plus Consulting. From CRM assessment analysis to implementation and management, Plus Consulting is equipped to deliver effective CRM software solutions for your brand. Discover what Plus Consulting can do for you by visiting
http://www.plusconsulting.com/SitePages/Home.aspx