Team from Local Dental Office Participates in Best Buddies Friendship Walk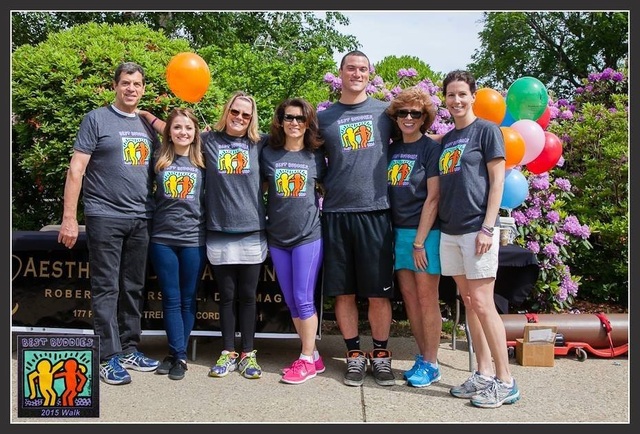 July 20, 2015 - Concord, NH
– The whole staff from Aesthetic Dental Center, including practice owner Dr. Robert Marshall, recently took part in the 2nd annual Best Buddies New Hampshire Friendship Walk.
Aesthetic Dental Center, a cosmetic and restorative dental office in Concord, sponsored and took part in the Best Buddies New Hampshire Friendship Walk, which supports children with special needs and is held in various states throughout the US. As a Presenting Sponsor of the event, Robert Marshall, DMD, MAGD, and his team, hosted a table that provided balloons and entertainment from a magician for children and their families who participated in the walk.
Dr. Marshall states, "We're all very excited to have been a part of this event. Our office supports Best Buddies' mission of inclusion, friendship and leadership for students and adults with special needs in schools and in our greater community."
The 2015 Best Buddies New Hampshire Friendship Walk was held on Saturday, June 6th at the Capitol State Grounds in Concord, NH. This was the second Best Buddies Friendship Walk in Concord, with participants and sponsors raising over $50,000 to benefit people with Intellectual and Developmental Disabilities (IDD). Best Buddies helps people with IDD self-advocate, build friendships with students in their schools (or adults in their communities), and acquire employment.
The entire Aesthetic Dental Center team took active part in the event and completed the one mile walk alongside other volunteers and program supporters.
About Robert E. Marshall, DMD, MAGD and Aesthetic Dental Center
Dr. Marshall graduated from the University of New Hampshire in 1976 and continued his studies at Tufts University School of Dental Medicine in 1979. Dr. Marshall has attended extensive post graduate training and has taught at two of the leading programs in the world: the Pacific Aesthetic Continuum (PAC-Live) and the Las Vegas Institute for Advanced Dental Studies. He is a member of the American Dental Association, American Academy of Cosmetic Dentistry, Academy of General Dentistry, and the American Academy of Implant Dentistry. Dr. Marshall is also a Trustee in the New Hampshire Dental Society and a Delegate of the Word Congress of Dental Implants. Aesthetic Dental Center offers treatments that help transform patients' smiles, which include Invisalign®, porcelain crowns, veneers, and implant restorations.
For more information, visit the website at aesheticdentalcenter.com
Email Aesthetic Dental Center