Stay Safe on the Road This Summer with Help from Covelli Law Offices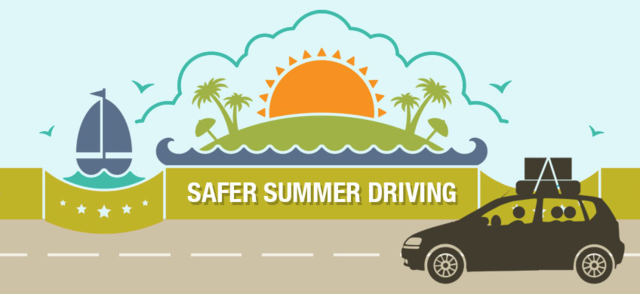 July 18, 2015 - While most of us associate winter with being the most hazardous travel season of the year, the summer months are actually the most prone to accidents and wrecks on the road. Whether it's due to the increase in travel or to hurrying to escape to our vacation getaways, more fatal accidents occur between June, July and August than any other months of the year. Make sure that you arrive at your vacation destination safe and sound, with help from the team at Covelli Law Offices.
Staying safer on the roads this summer doesn't take much effort. In fact, with a little patience and some preparation, you can arrive at your vacation destination on time and without the worry of an accident taking place.
The first thing that you should do before starting your trip is to check your tire pressure and make sure that it matches with the manufacturer's recommended level. Second, make sure that your car load is not too heavy, in order to ensure that your engine can handle the trip. If you are using a hitch for hauling bicycles or a luggage carrier, be sure that all items are securely fastened. Also, check that items are not blocking your view with side and rear view mirrors.
After giving your vehicle some quality maintenance time to make sure that everything is in working order and prepped for the road ahead, there are a few items you should try to keep handy while you are on your way to your summer vacation.
First, you should always be certain to keep a pair of sunglasses in the car to help avoid any squinty eyed driving situations. Sunshields may also help keep the car cool and comfortable when you are not on the road.
Next, don't forget to pack your emergency supplies just in case anything should happen while you are on the road. Keep bottles of water, any necessary medication, snacks and a flashlight in the glove compartment of your car. These will help you stay prepared for almost any situation. As always, keep a lookout for cyclists, children and pedestrians while on the road, especially during the summer months.
Finally, be sure you stay alert while on the road. Take a break from driving if you are fatigued. A GPS unit can be very helpful with navigating, but be reminded to keep your eyes on the road and not become distracted by the GPS. If you need to enter new data in the GPS, take extra precautions and pull off the road to do so or have someone else in the vehicle type in the information. Be reminded that cell phone use may be against the law in some states, and drivers should never be texting while driving.
Staying safer on the roads this summer doesn't have to be difficult. Take the time to prepare yourself by visiting
http://covellilaw.com/safer-summer-driving-infographic/
.
No matter how safe you drive or how careful you may be, you are always at risk of an accident taking place – even through no fault of your own. If you become injured during an auto accident, make sure that you seek legal advice by contacting the personal injury attorneys at Covelli Law Offices. Discover how our team of attorneys can help you during a very stressful time by visiting
covellilaw.com
.
Email Covelli Law Offices, P.C.